Oil has suffered an epic decline.
Since peaking above $107 per barrel at the end of June, the price of West Texas Intermediate (WTI) crude oil recently collapsed to less than $82.
That's a 23% decline in less than three months. Oil is now trading at its lowest price in two years. And a lot of folks think it's going to fall even further.
I disagree. It's likely the bottom is almost in for oil prices. And the sector looks like it's setting up for a short-term rally.
[ad#Google Adsense 336×280-IA]Let me explain…
As regular Growth Stock Wire readers know, assets like oil typically trade opposite of the U.S. dollar. So oil rallies when the dollar falls… And oil falls when the dollar rallies.
That's what we've seen recently.
As I told you two weeks ago, the dollar has been in a parabolic rally. The U.S. Dollar Index is up more than 6% since June. Meanwhile, the price of oil has plunged 23%.
But parabolic moves never last. And it looks like the dollar just peaked.
Take a look at this chart of the U.S. Dollar Index…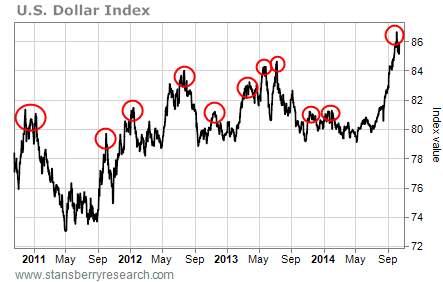 As you can see, the dollar has started to pull back. It's likely it will fall further from here. And that's great for oil. As I said earlier, oil rallies when the dollar falls.
The red circles on the chart show past short-term peaks in the dollar index. And as you can see in the chart of WTI crude oil below, these peaks tend to correlate with short-term bottoms in the price of oil.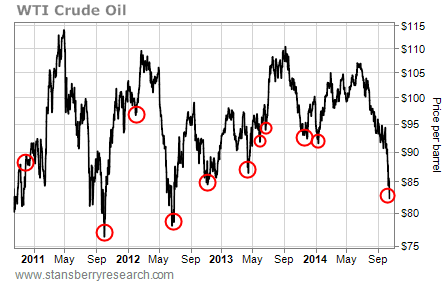 It's also worthwhile to note that in each of the past three years, the price of oil has bottomed sometime in October. Oil then rallied sharply through the end of the year.
So the stage is set for a strong rally in oil to get started sometime soon.
That doesn't mean traders should go out and put their entire portfolios into oil right now. As my colleague Amber Lee Mason wrote yesterday, there are four rules to trading during a crisis…
1. Wait for the price to stop falling.
2. Use a tight stop.
3. Keep your position size small.
4. Give the trade a few chances to work out.
These rules apply to oil right now.
With the topping action in the dollar, and with the normal seasonal strength in oil this time of year, an excellent contrarian trade is setting up here. But first, we have to wait for the price of oil to stop falling… and we probably don't have to wait too long.
Best regards and good trading,
Jeff Clark
[ad#stansberry-ps]
Source: Growth Stock Wire