Yesterday, risky assets tanked… and "safe haven" assets soared…
But one traditional safe-haven asset didn't follow the script – the U.S. dollar.
As investors fled Italian bonds, Greek bonds, and Japanese stocks, they poured money into U.S. government bonds as a safe-haven play.
A huge amount of dollars was needed yesterday to buy all those bonds. In a single day, the interest rate on 10-year government bonds fell from about 2.2% down below 2.0% (before settling at 2.1%). That might not sound like much, but it is a massive move.
[ad#Google Adsense 336×280-IA]So you would think the U.S. dollar would have gone up.
It didn't.
What that tells me is that everyone who wants to own a U.S. dollar already owns it…
This fits with the numbers from my friend Jason Goepfert of www.SentimenTrader.com.
Jason's sentiment data shows that the U.S. dollar is more loved than it ever has been.
It can't go higher, because there's nobody out there left to fall in love with it. So it can only go down.
After doing nothing for a while, the U.S. dollar started taking off in July.
And it's been a one-way ride to the start of October… Take a look: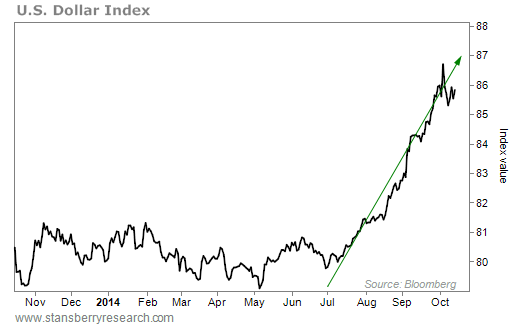 That smooth one-way ride created the dollar love-fest. It lulled traders to sleep. It was practically Groundhog Day, as currency traders woke up each morning to the same thing – a higher dollar.
Those days are now over.
The U.S. dollar just peaked.
Trade accordingly…
Good investing,
Steve
[ad#stansberry-ps]
Source: Daily Wealth