The gold-stock rally kicked back into gear last week.
We started the year expecting a rally in gold stocks. And we weren't disappointed. The Market Vector Gold Miners Fund (GDX) rallied nearly 40% from its bottom in December to its top in March.
That's the sort of rally that almost always kicks off a new bull market. But it's also the sort of rally that creates a "buying panic."
[ad#Google Adsense 336×280-IA]And that's exactly what happened. Investors chased gold stocks higher into overbought conditions in March.
Disappointed investors then sold as the sector failed to gain any ground and chopped back and forth for months.
But, as I told you in April, that's how bull markets work. And there are big gains ahead when the young bull market starts its next move higher.
That's where we are right now. GDX has recovered everything it lost in May. And the gold-mining sector is approaching its highs of the year…
Take a look at this chart of GDX plotted along with its 50-day moving average (DMA) and nine-day exponential moving average (EMA)…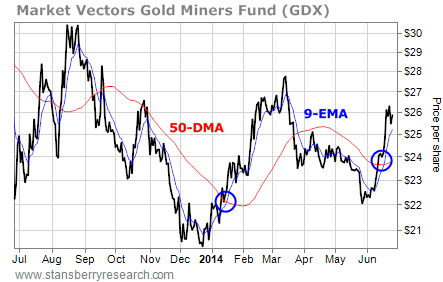 The biggest rallies in the gold-mining sector occur when GDX is trading above both its nine-day EMA and its 50-DMA. That indicates the sector is in an intermediate-term rally phase. Traders can hold onto positions longer and try to make larger profits.
When GDX is trading below the moving averages, the rally attempts are short-term and shallow. Traders need to be nimble and take profits fast.
The kickoff point for an intermediate-term rally occurs when the nine-day EMA completes a "bullish cross" above the 50-DMA.
You can see how gold stocks launched higher immediately following the bullish cross back in January. GDX soared 30% in two months. We have a similar setup today.
Gold stocks are back in rally mode. But as you can see from the chart, GDX is extended above its nine-day EMA right now. So it's not a good time to pile into the sector. There's too much risk of a short-term pullback.
Traders should look to add exposure to the sector after GDX pulls back toward the support of its nine-day EMA or consolidates long enough to allow the nine-day EMA to catch up to the current price. Any pullbacks in the sector are buying opportunities.
Best regards and good trading,
Jeff Clark
[ad#stansberry-ps]
Source: Growth Stock Wire