It was one of the greatest conversations of my life…
I had the rare opportunity to sit down and talk with legendary oil tycoon T. Boone Pickens for more than an hour on stage at the recent Stansberry Society conference last month in Dallas.
I've never spoken to someone with more wisdom. Pickens, now 86 years old, is still living a better, more active and challenging life than most of the people I know under the age of 40. He's a national treasure.
[ad#Google Adsense 336×280-IA]I thought for weeks leading up to the conference about the most challenging and valuable questions I could ask him.
I knew he wouldn't discuss specific stock picks – few active managers would comment in public on any particular stock.
Instead, I decided to ask Pickens about his opinion of the two most-hated energy assets in the world today: coal and uranium.
Which, if either, would he invest in now?
The answer? Both.
Of the two, coal is the most attractive to us for a simple reason: Coal remains the world's leading energy source, and its consumption continues to grow by about 2% annually.
Politicians can (and will) say whatever they like about global warming and reducing emissions. But if they want the lights to stay on, then the coal trains had better run. We view the current divergence between the obvious and critical role coal plays in the global economy and the nearly universally negative outlook people have for it as the single greatest contrarian opportunity today.
It would be hard to find a more hated asset on the planet. Since its inception in 2008, the Market Vectors Coal Fund (KOL) – a basket of 33 international coal stocks – is down more than 50%. It's trading near the lows it set during the crisis of late 2008/early 2009. By comparison, the S&P 500 is up by nearly 40% over the same period.
Lots of people these days would like for us to abandon coal. They have a lot of reasons to dislike coal. Notably, it's dirty. Burning coal for power generation creates more pollutants than other fuels, like uranium and natural gas. And with natural gas selling at historically low prices, it makes a lot of sense to opt for it over coal.
That's one reason most people think of coal as an industrial relic of the 19th century, waiting for obsolescence.
They couldn't be more wrong…
Last year, coal produced 39% of net U.S. power generation. The environmentalists' beloved solar energy accounted for 0.23% of U.S. power generation.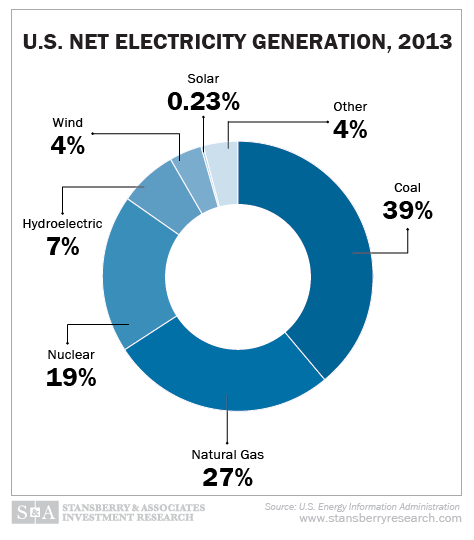 Coal and natural gas are simply more economical than other options. According to the Bloomberg New Energy Finance data service, a megawatt/hour (MWh) of coal energy currently costs around $82. Natural gas costs $84 per MWh. Offshore wind and heliostat solar – two darlings of the "renewable energy" crowd – cost $189 and $254 per MWh, respectively. Until these costs change, the chart above may as well be set in stone.
And globally, coal fuels more than half of all energy consumption. The world burns nearly 150 quadrillion British thermal units (a measure of heat) of coal each year. That figure is growing steadily.
Remember, coal is also used in steelmaking. In industry parlance, coal for power plants is often called "steam" coal. "Metallurgical" (or simply "met") coal is used for making steel. Globally, demand for both types of coal is expected to increase a combined 58% over the next 20 years.
Emerging markets, notably China and India, will be responsible for nearly all of that additional demand. India will double its consumption of coal over the next 30 years. China is already the world's largest consumer of coal, burning roughly four times as much as the U.S. each year. China continues to build a new coal-fired power plant each week. Chinese consumption of coal will most likely double in the next 30 years.
Environmentalists and the Environmental Protection Agency (EPA) will probably be surprised how little influence their "boycotts" and regulations will have. When you look at how much China and India are driving demand (in the following chart), it's clear… any environmental benefit from tough U.S. coal regulations will only be a drop in the global pollution bucket.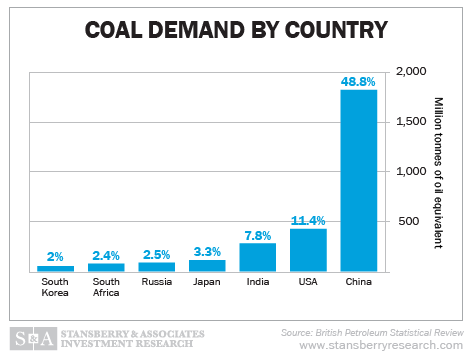 Technology will surely play a role in reducing pollution. But to believe that technology will allow coal to be replaced around the world as a fundamental power source is nonsense.
In tomorrow's essay, I'll reveal the real challenge facing the coal sector today… how it will finally overcome this challenge… and how much potential there is in the next cyclical boom for coal stocks.
Regards,
Porter Stansberry
[ad#stansberry-ps]
Source: DailyWealth