It's "horror movie ending time" for the currency markets.
We all know how this works. Whether it's Freddy Krueger in "A Nightmare on Elm Street," Jason in "Friday the 13th," or Michael Myers in "Halloween," they all end the same way…
The villain appears to be defeated. All the potential victims hug each other and the audience breathes a sigh of relief. Then, out of nowhere, the villain rises from the dead and takes one last swipe at its tormentors.
[ad#Google Adsense 336×280-IA]Well… Freddy, Jason, and Michael… meet the euro – soon to be the currency market's biggest horror story.
The euro is dead. We all know it. Heck, we've been writing about it in Growth Stock Wire for nearly two years. But back then, nobody believed us. It was as if nobody could accept that a currency experiment with such good intentions could ever go bad. But it has been one misstep after another. Now, it seems like the euro has breathed its last breath. Currency traders are looking to exhale.
But… not so fast. The villain has one more swipe left in it.
Take a look at this chart…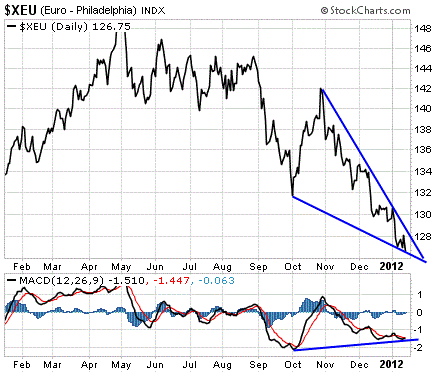 The euro is in a falling-wedge pattern with positive divergence on the MACD momentum indicator. We've seen this pattern before. It almost always plays out with the chart making a sharp breakout to the upside.
Just as all the potential victims think the euro is dead, and the currency traders are loaded to the hilt with a record net euro short position… the villain is preparing to take one last swipe at its tormentors. By the look of things, the euro could make one last run back to the 134 level.
Since stocks and precious metals have been running in sync with the euro lately, a strong bounce in the currency should be enough to spark a sharp rally in the market and in gold. Betting against it could be deadly.
Best regards and good trading,
Jeff Clark
[ad#jack p.s.]
Source: The Growth Stock Wire