High-quality dividend growth stocks. These are some of the best stocks in the world.
After all, it takes a very special kind of business to be able to consistently pay out growing dividends for years – or decades – on end.
You simply can't write ever-larger checks to people if you're not producing ever-larger cash flow. I've been investing in these stocks myself for more than 10 years. Doing so allowed me to retire in my early 30s.
I now live off of the safe, growing dividend income my dividend growth stock portfolio produces for me.
Now, within the dividend growth investing universe, Dividend Aristocrats are the creme de la creme. These are stocks that have increased their dividends for at least the last 25 consecutive years.
So if you want extremely safe dividend income that's also increasing year in and year out, Dividend Aristocrats are a good place to look. Not only that, these stocks – because they're so high quality – tend to also be incredible long-term wealth compounders.
Today, I'm going to show you how five millionaire-maker Dividend Aristocrats would have turned $5,000 into $1.7 million. Ready? Let's dig in.
This exercise is assuming you invested $1,000 into each stock in October 1991 – that's 30 years ago.
So that's $1,000 per stock. For a total investment of just $5,000.
That's a rather small investment. Even factoring in inflation, because a dollar back then was worth more, we're talking about an inflation-adjusted total investment of roughly $10,000.
So not a lot of money here. Yet this investment turned into $1.7 million.
The first Dividend Aristocrat I want to highlight here is American States Water (AWR).
American States Water is an American water and electricity utility company.
A utility? Boring, right? Well, it's only boring if you don't like to make money. And I'm not talking about just a number on a screen here, either. I'm talking about safe, growing cash flow. This company pays out one of the most reliable dividends in the world.
This company has increased its dividend for 67 consecutive years.
That's the longest dividend growth streak in the world. No company has consistently increased its dividend every year for longer than American States Water. And with a 10-year dividend growth rate of 9.4%, it's not like these dividend increases are pittance. They're running well ahead of inflation. Now, the yield isn't super high – it's only 1.7%. But this is a long-term compounder that can exponentially increase your wealth almost like magic.
A $1,000 investment into this stock 30 years ago would now be worth over $289,000.
Can you believe that? A single $1,000 investment with American States Water, with no further capital invested ever again, would now be worth almost $300,000.
That's nearly 300 times your original money. On a water utility. It's amazing. And since water is quite possibly liquid gold – the oil of the 21st century – it's somewhere that you really should consider being exposed to.
Next up, let's talk about Clorox (CLX).
Clorox is a global manufacturer and marketer of a variety of consumer products.
We all know Clorox and its bevy of brands, including Brita, Kingsford, Glad, Pine-Sol, and the namesake Clorox. These are simple-to-understand products, making this a simple-to-understand business. But simple isn't bad. In fact, it's often quite the opposite. You should always understand exactly what you're investing in. Another thing that's simple to understand? Growing dividends.
Indeed, this company has increased its dividend for 44 consecutive years.
Yep. Even 30 years ago, they were almost 15 years into growing their dividend. So it's not like this was some "new kid on the block back then". And even now, more than four decades into growing the dividend, the dividend remains in a great position – largely because consumers still use their products just like they used them 10, 20, 30, 40 years ago. With a 10-year DGR of 7.5%, paired with a yield of 2.8%, this stock offers a pretty nice combination of yield and growth. You know what else it offers? Compounding.
This stock would have turned a $1,000 investment 30 years ago into almost $67,000.
Yeah, not quite as impressive as American States Water, but Clorox still returned you over 65 times your original investment.
Who could possibly complain about 65 times more money? By the way, I analyzed and valued Clorox stock not long ago, concluding that shares could be worth over $193/each. With this name below $164/share right now, this could be an opportunity for the next 30 years.
The third Dividend Aristocrat I want to highlight today is Lowe's (LOW).
Lowe's is a large home improvement retailer.
What's the American Dream? Homeownership, right? That's a big part of it. Well, Lowe's caters to that. And in doing so, they profit handsomely. So do their shareholders, which they get reminded of every single quarter when Lowe's drops a beautiful dividend into their brokerage accounts. Not only that, this is a dividend that is increased, like clockwork, year in and year out.
The home improvement retailer has increased its dividend for 59 consecutive years.
Nearly six straight decades of ever-larger dividends. You have to do a lot of things right in order to accomplish something like that. With a 10-year DGR of 18.9%, this is no slouch in the growth department. Shareholders needn't fear inflation when their dividend income is growing that fast. The stock's 1.6% yield isn't exactly lighting the world on fire, but its compounding prowess is.
A $1,000 investment into Lowe's 30 years ago would be worth $633,000 today.
All you had to do in 1991 was to look at Lowe's, the business model, the catering to the American Dream of homeownership and home improvement, and their – at the time – nearly 30-year track record of growing dividends as supreme evidence of the quality of the business, then you put $1,000 to work with them. That's it. Then watch that initial – and only – $1,000 investment turn into $633,000 today.
That's more than 600 times your original money. Dividend Aristocrats like Lowe's can perform magic over the long run, if you just let that compounding process play out. I analyzed and valued Lowe's in August, showing why shares could be worth about $209/each. So this stock doesn't even look expensive, despite how well it performs.
Next, let's have a discussion about Target (TGT).
Target is an American retail corporation.
Another retailer, except Target is more in general merchandise. And that's been a great, great place to be over the decades, as Americans are known to, well… Americans like buying stuff. And Target likes selling stuff. They also like rewarding their shareholders with safe, growing dividends that you can almost set your watch to.
They've increased their dividend for 54 consecutive years.
The stock only yields 1.6%, but it's not a yield story. It's a dividend growth story. And even 50+ years into dividend growth, there's no sign of slowdown here. The 10-year DGR is 12.3%. Their most recent dividend increase was over 32%! Notice a theme yet? High-quality companies tend to increase their dividends, because high-quality companies are producing increasing profits. It's a virtuous circle that can enrich you. Speaking of enriching you, check this out.
Target stock would have turned a $1,000 investment 30 years ago into $225,000.
More than 200 times your money on a general merchandiser.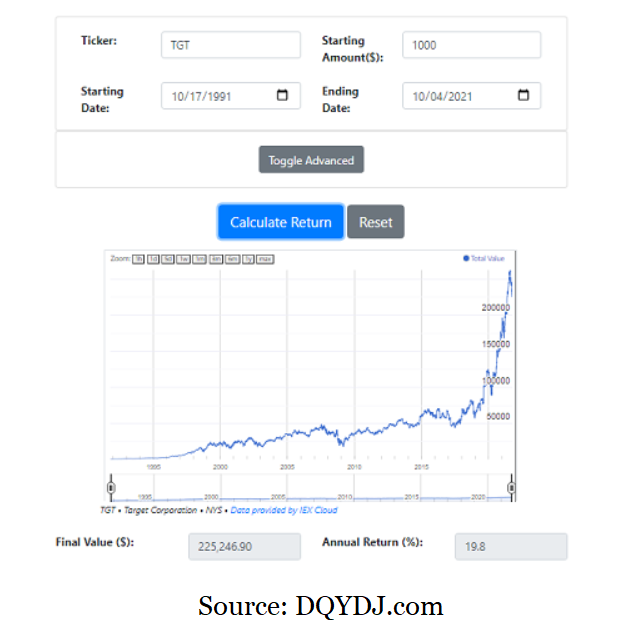 That's easy money, guys. And this isn't something that you would have had to have amazing foresight on. I mean, we're talking about a company that was already large 30 years ago, and they already had been growing their dividend for nearly 25 straight years back then. So they were knocking on the Dividend Aristocrat door in 1991. You didn't have to uncover any big secret here. Furthermore, this is a stock that's up 39% over the last year alone. So this isn't a train you had to jump on decades ago in order to see great returns. If you're not already on the train now, consider punching your ticket with some investment capital.
Last but not least, let's talk about the Dividend Aristocrat that is T. Rowe Price (TROW).
T. Rowe Price is an investment management firm.
If you think the stock market is a great place to be over the long run – and I certainly do – then you have to like investment managers that are directly exposed to that through the assets they manage. They collect fees on those assets that naturally benefit from a rising tide lifting all boats. What does that mean? Well, more fees, higher profits, and bigger dividends over the long run.
This company has increased its dividend for 35 consecutive years.
T. Rowe Price is in the business of money. So it shouldn't be a surprise that they're so adept at rewarding their shareholders with reliable, rising dividends. The 10-year DGR of 12.8% comes attached to the stock's current yield of 2.2%, so you're getting very decent yield on top of that double-digit long-term dividend growth. I don't think anyone's complaining about that. You know what else nobody is complaining about? This stock's ability to compound and build wealth over the long run.
$1,000 invested into T. Rowe Price 30 years ago would be worth $518,000 today.
That's more than 500 times your original investment.
How's that for compounding? How's that for exponential growth in your wealth? Again, this isn't something that's an old, tired story. The stock is up 36% over the last year alone. There's nothing stopping the next 30 years from being just as good, if not better, than the last 30 years. I analyzed and valued T. Rowe Price earlier this year, with the estimation of intrinsic value coming in at just under $198/share. Looks like another fair deal on a high-quality company.
So what did $1,000 into each of these five Dividend Aristocrats for 30 years do?
Well, that initial $5,000 sum invested evenly across these five Dividend Aristocrats – that's $1,000 per stock – would have turned into approximately $1.7 million today. That's $5,000 invested and then sitting on your hands for 30 years, yet you end up with lottery money at the end of it. This is why it's so important to start early, stick to quality, and be patient. Dividend Aristocrats can and do perform magic. If you're not already in on the magic show, think about changing that today.
— Jason Fieber
P.S. If you'd like access to my entire six-figure dividend growth stock portfolio, as well as stock trades I make with my own money, I've made all of that available exclusively through Patreon.
We're Putting $2,000 / Month into These Stocks
The goal? To build a reliable, growing income stream by making regular investments in high-quality dividend-paying companies.
Click here
to access our Income Builder Portfolio and see what we're buying this month.
Source: DividendsAndIncome.com