Dividend Aristocrats are some of my favorite dividend growth stocks. These are stocks that have increased their dividends for at least the last 25 consecutive years.
They are some of the very highest-quality dividend growth stocks you'll find. Now, many of these stocks are household names. That's not a surprise.
After all, it takes an incredible business to be able to sustain growing dividends for decades on end. That oftentimes means a business naturally ends up building a well-known reputation.
I'll give you an example. Johnson & Johnson is a Dividend Aristocrat that probably everyone has heard of. However, some Dividend Aristocrats surprisingly fly under the radar. You might not have ever heard of these stocks.
Yet some of them have been absolute monsters in terms of investment performance. These could be some fresh long-term investment ideas for you to consider.
Today, I want to tell you about three under-the-radar Dividend Aristocrats. Ready? Let's dig in.
Dividend Aristocrat #1: A.O. Smith (AOS)
A.O. Smith is  a water heating and water treatment solutions company.
Water heaters? Yep. Water heaters. A world leader in this area, A.O. Smith has nearly perfected a very simple business model that you might not even think about in terms of investing. A.O. Smith has basically turned water into money. They've increased their profit like clockwork. And they've done the same with their dividend.
They've increased their dividend for 27 consecutive years.
Not only that, we're talking about a 10-year dividend growth rate of 21.9%. And with the dividend currently eating up less than 50% of earnings, there's almost certainly plenty more where that came from. The stock only yields 1.5%, so it's more of a long-term compounder than a current income producer. So you've gotta have some patience. But patience has definitely paid off for investors in A.O. Smith.
This stock has absolutely killed it over the last decade.
It's compounded at an annual rate of of over 24% since June 2011 – turning $1,000 into more than $8,500.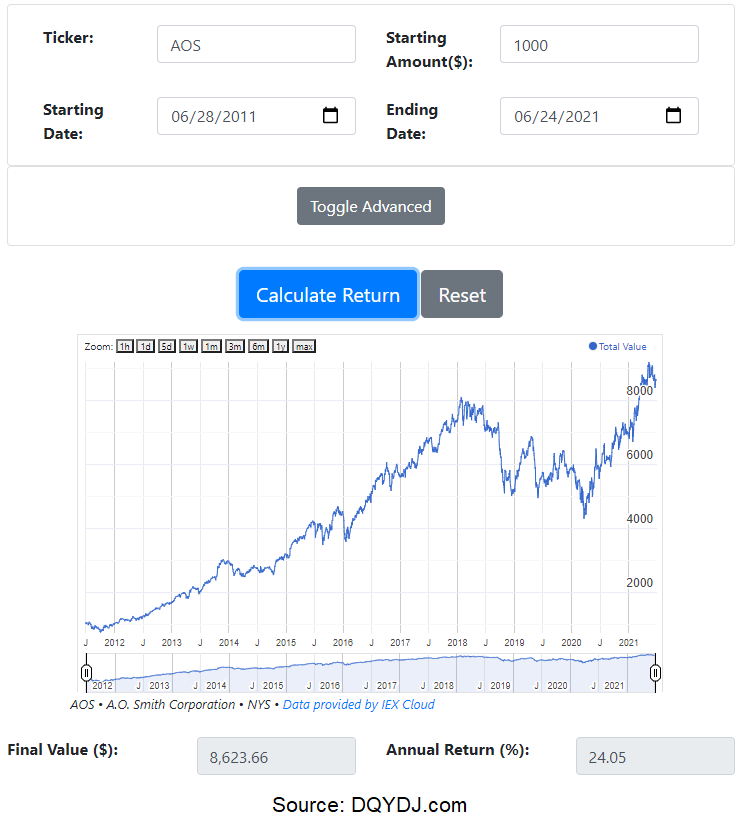 This is an under-the-radar name because a lot of investors chase high-yield junk stocks while these high-quality dividend growth compounders just quietly and steadily make their investors rich over the long run. Meanwhile, a lot of basic valuation metrics for this stock are in line with recent historical averages. It might not have been on your radar before. But now it is.
Dividend Aristocrat #2: Cintas (CTAS)
Cintas is a business products and services company.
This company provides things like uniforms and cleaning supplies to other businesses. Again, something you might not even think about. You can see this stuff every day, but making that leap to an investment idea isn't necessarily all that obvious. What is obvious, though, are the dividends hitting shareholders' accounts. Those dividends are very obvious, very real, and very much growing.
Cintas has increased its dividend for 39 consecutive years.
There's money in uniforms. Cintas proves it, with their 10-year dividend growth rate of 19.3%. The stock's yield of 0.8% won't get the income job done today, but this is a great example of why starting investing when you're young and letting the compounding process play out over decades is so powerful. If you start late, it's hard to invest in amazing compounders because you lack the time. But if you can give a business like Cintas a decade or so to go to work for you, amazing things can happen.
How amazing? Check this out.
Cintas would have turned a $1,000 investment 10 years ago into more than $13,000 today.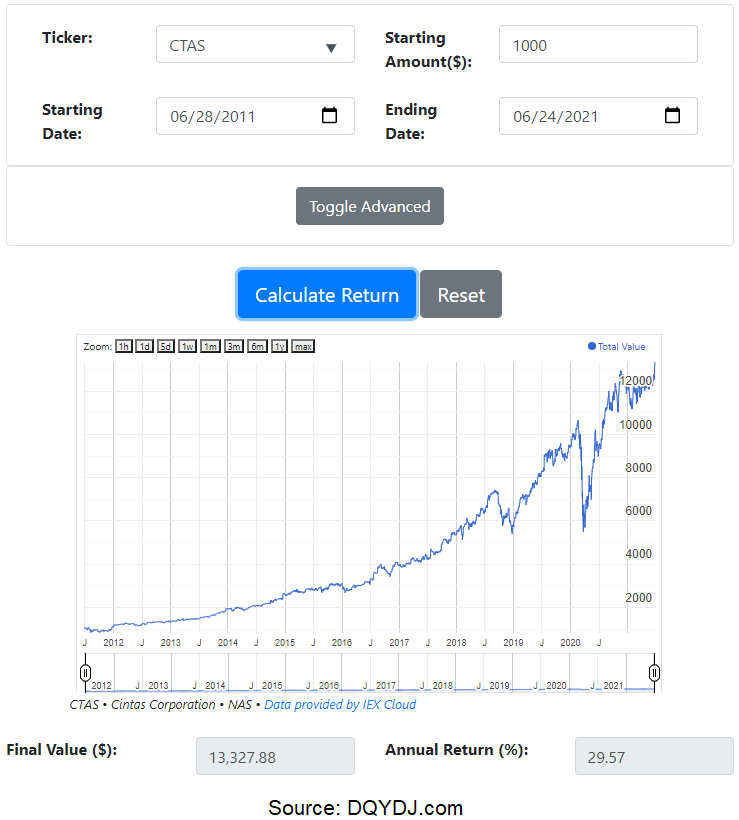 That's more than 10 times your initial investment. This stock has compounded at an annual rate of almost 30% over the last decade. Again, who talks about Cintas? Almost nobody. But these under-the-radar Dividend Aristocrat gems should be talked about a lot more, because they're making shareholders rich. Cintas doesn't look super cheap here, but why would it be cheap? It's minting money. Put this one on your radar and keep an eye out for dips in the name.
Dividend Aristocrat #3: Linde PLC (LIN)
Linde is a global industrial gasses company.
Linde provides gasses like hydrogen to manufacturers. These gasses are usually critical to the manufacturing process. It's another business model that you might not even think about, and I certainly don't hear industrial gasses on the lips of most investors, yet there's a lot of money to be made here. And a lot of money means a lot of dividends – growing dividends, in fact.
Linde has increased its dividend for 28 consecutive years.
Their 10-year dividend growth rate of 7.9% isn't quite as high as the other two Dividend Aristocrats. But whereas the other two have seen some recent deceleration in dividend growth, Linde is going the other way with dividend growth acceleration – their most recent dividend increase was 10%. And the yield, at 1.5%, is slightly higher than the broader market. I'll tell you what else they beat the market at – returns.
Since merging with Praxair in late 2018, the stock has nearly doubled.
I'm providing a more recent look at returns on this one because the current iteration of Linde exists as of October 31, 2018. Still, they've crushed it since then. We're talking a compound annual growth rate of over 26%, turning $1,000 at the time of the merger into more than $1,800 today.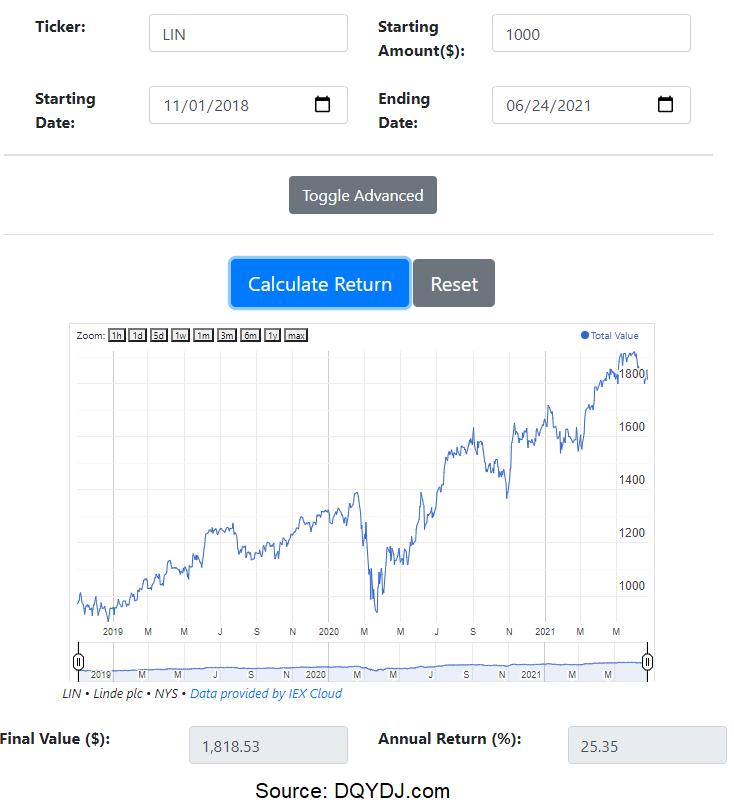 And this company has been printing some incredible numbers of late. Taking the midpoint of this year's adjusted EPS of $9.70, the forward P/E ratio is under 30. Elevated, yes. But not obscene in this market. If Linde isn't on your radar or in your portfolio, you might want to consider changing that.
— Jason Fieber
P.S. If you'd like access to my entire six-figure dividend growth stock portfolio, as well as stock trades I make with my own money, I've made all of that available exclusively through Patreon.
Source: DividendsAndIncome.com