This is the third article in our series covering investors of different ages. We already published articles talking about stocks to buy for investors in their 20s and 30s.
And now I'm talking to investors in their 40s.
As an investor who started investing at 27, is now in my 30s, and coming up on 40 not too long from now, I feel especially qualified to cover this topic. When you're in your 20s, growth and quality matters much more than yield. You have decades to let the compounding process go to work for you.
But when you're in your 30s, you start to think more about balancing yield and growth. That's because you simply have less time to let the compounding process play out.
The less time you have as an investor, and the closer you are to living off of your investment income, the more important yield becomes. So when you're buying stocks in your 40s, that balance starts to shift even more toward yield than what it would have been you're in your 30s. But you also want to maximize safety, as you have less time to make up for lost ground if an investment goes south on you.
It's with that in mind that I want to share with you three different dividend growth stocks to buy if you're in your 40s. These are all high-quality dividend growth stocks that are growing their profits and dividends like clockwork.
And they all offer a yield above 4%, which makes it worth your while and gets you closer to living off of your passive dividend income.
The balance is weighted somewhat toward yield over growth here, but these stocks are all growing their dividends at inflation-beating rates, which allows your purchasing power to keep up with inflation.
So you get a yield that's more than twice as high as what the market offers, which compensates you for your risk and helps you to meet some of your current income needs.
But you still get that growth and safety in there, so that you can be mindful of your future self and their income needs.
Ready for the three stocks? Let's dig in.
Over-the-Hill Stock #1: Pinnacle West Capital (PNW)
The first stock I want to tell you about is Pinnacle West Capital (PNW).
This is a utility holding company that serves customers in Arizona.
A utility stock like this one is perfect for investors in their 40s. You get that elevated yield you're looking for. In this case, the stock yields a very appealing 4%. But you also get plenty of growth, which is based upon society's need for electricity. That need isn't going anywhere. Demand is only going to rise.
This utility stock has increased its dividend for nine consecutive years.
And the five-year dividend growth rate is 5.7%. That's well above inflation. This stock offers a very nice combination of yield and growth. You could get an easy 10%+ annual return on this one just based on the combination of yield and growth, with a good chunk of that return coming back to you in the form of a large dividend. If I'm in my 40s, that's exactly what I want.
And since this utility's service area is in one of the fastest-growing regions of the United States, it's especially attractive.
Arizona is growing like crazy. People are moving to Phoenix in droves. That certainly helps this utility and its investors out. You have a basic need with natural rising demand supercharged by a ton of new customers.
Plus, the stock isn't overly expensive right now.
It's trading hands for a P/E ratio of below 19, which is much better than what you're getting with the market. And the stock's current yield of 4% is materially higher than its five-year average of 3.4%. So the stock is in some ways a better deal now than it's been in the past, which is fantastic when you consider its advantageous position. This is a big reason why it's one of my top 5 stocks for 2021.
Over-the-Hill Stock #2: Verizon (VZ)
The second stock? Let's talk about Verizon (VZ). Verizon is a telecommunications powerhouse.
You know what else? It's a dividend powerhouse. The stock yields 4.4%. And this dividend is growing like clockwork – it's been increased for the last 16 consecutive years, with a 10-year dividend growth rate of 2.6%.
All of those smartphones you see people glued to? They require networks.
Networks just like the one Verizon provides. And that's the foundation of their growth. Verizon may as well be a utility, since people seem to think of mobile data as highly as electricity and water. This sets the company up for many, many more years of growth ahead.
If you buy Verizon stock, you're buying alongside Warren Buffett himself.
His firm, Berkshire Hathaway, recently bought Verizon stock. While Buffett is certainly much older than 40, he's running his common stock portfolio for Berkshire shareholders of all ages. And if you're in your 40s, I see Verizon's balance between quality, yield, and growth to be quite compelling.
Meanwhile, I see the stock's valuation as more than acceptable.
The P/E ratio of 13.4 is well below where the broader market's earnings multiple is at. Verizon's P/CF ratio of 5.7 is noticeably lower than its three-year average of 6.8. And the yield is also above its recent historical average. This is a great idea for investors in their 40s. You get yield, but you don't have to sacrifice growth and quality.
Over-the-Hill Stock #3: Realty Income (O)
Last but certainly not least, let's discuss Realty Income (O).
Realty Income is a dividend growth legend. That's because you get it all. You want yield? They give it to you, with the stock's 4.3% yield. You want growth? They've increased their dividend for 28 consecutive years. You want that income stream to come in monthly? They pay their dividend monthly.
This stock gives you the opportunity to be a commercial real estate "landlord" and collect "monthly rent checks".
Except you do none of the hard work. Realty Income owns and manages a portfolio of thousands of real estate properties that they lease out. They collect rent from their tenants. And then they use that income to pay out monthly dividends to their shareholders. It doesn't get any easier than that.
This is one of my favorite dividend growth stocks, especially for investors in their 40s.
You get a sizable monthly dividend that's growing a lot faster than inflation, with a 10-year dividend growth rate of 4.9%. And this company oozes quality from every pore. There's almost nothing to fault here.
Even the valuation leaves little to be desired.
We recently put out an analysis and valuation video on Realty Income, estimating the stock's intrinsic value at a bit under $66/share.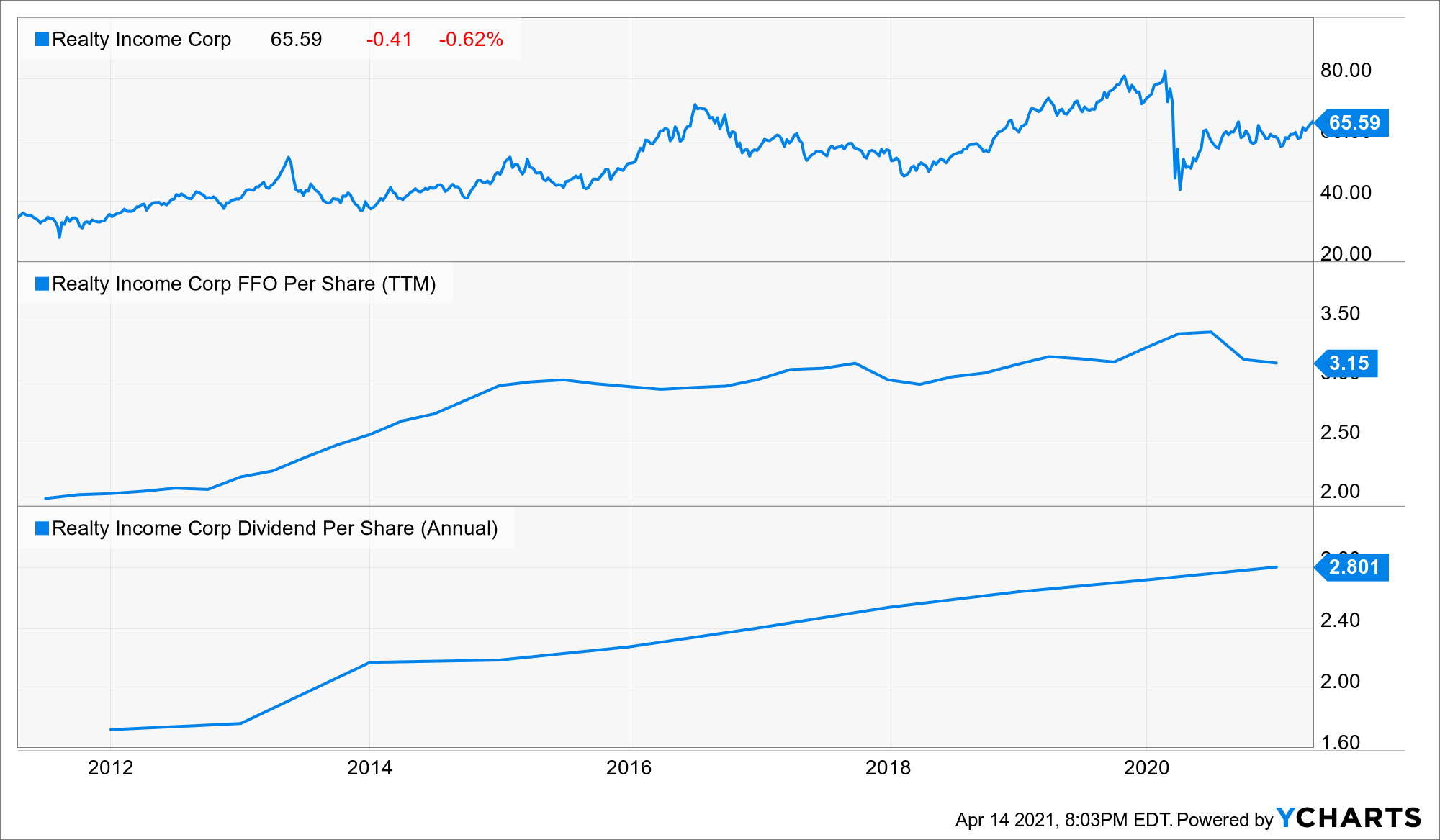 Paying a fair price for one of the highest-quality dividend growth stocks out there that pays a safe, growing monthly dividend? In an otherwise expensive market? That doesn't strike me as a bad idea at all. This could be one of the very best dividend growth stocks to buy right now for investors in their 40s.
If you're not in your 40s, no worries. We recently published videos for investors in their 20s and 30s. And we have videos coming out soon that'll cover investors in their 50s and 60s.
I think all three of these stocks can make for excellent long-term investments, no matter how old you are. But if you're in your 40s and looking to put new capital to work, these could be especially suitable for you. Investing is a game of a bird in the hand versus birds in the bush.
If you're in your 40s and have a bit less time for those birds in the bush to multiply, these high-quality dividend growth stocks offer enough yield to give you a nice bird in the hand. And they offer enough growth to keep multiplying the birds in the bush so that your wealth is exponentially growing and your dividend income's long-term purchasing power is increasing faster than inflation. Lastly, these stocks do all of this at reasonable valuations.
— Jason Fieber
P.S. If you'd like access to my entire six-figure dividend growth stock portfolio, as well as stock trades I make with my own money, I've made all of that available exclusively through Patreon.
Source: DividendsAndIncome.com
We're Putting $2,000 / Month into These Stocks
The goal? To build a reliable, growing income stream by making regular investments in high-quality dividend-paying companies.
Click here
to access our Income Builder Portfolio and see what we're buying this month.