I started buying stocks at 27 years old. By living below my means and systematically investing my savings into high-quality dividend growth stocks, I was able to become financially independent and retire at only 33 years old.
The dividend growth investing strategy can work miracles. But you have to consider your age when selecting the most appropriate stocks for your goals.
If you're 20, you'll be more interested in growth than yield. But if you're 60, yield is very important because you're probably living off of your investment income.
What if you're in your 30s, like me? Well, I think it's important to find that balance between yield and growth. And you still want to make sure you're sticking to high-quality stocks.
That means great fundamentals, including growth, financial position, and profitability.
Quality is often borne out in lengthy track records of growing dividends.
After all, how better to prove you run a highly profitable business than to send shareholders growing cash dividends year after year?
It's with this in mind that I want to share with you three high-quality dividend growth stocks that I think are great ideas for investors in their 30s.
Each stock offers a market-beating dividend, great fundamentals, many years of dividend growth, and a valuation that isn't overly demanding.
These are household names that should continue to compound your wealth and passive dividend income for decades to come. And they all provide solid dividends that you could even live off of today, if you wanted to.
Want to know which three stocks I'm talking about?
Let's dig in.
Thirtysomething Stock to Buy #1: Johnson & Johnson (JNJ)
The first stock I want to tell you about is Johnson & Johnson (JNJ). Johnson & Johnson is arguably the bluest of all blue-chip stocks.
This is one of my favorite dividend growth stocks. It's a healthcare machine, with businesses ranging from pharmaceuticals to medical devices to consumer products. Since we all know that quality healthcare products and services mint money, Johnson & Johnson should continue to do very well for many, many more years.
This company sweats quality from its pores. It's one of only two companies in the world with a AAA-rated balance sheet. The financial position doesn't get any stronger than that. Want more evidence of quality?
How about 58 consecutive years of dividend increases?
This Dividend Aristocrat has one of the longest dividend growth streaks in the world, with a 10-year dividend growth rate of 6.6%. They can afford to hand out these increases because they're growing the underlying business. Free cash flow has almost doubled over the last decade. That keeps the stock's market-beating 2.5% yield about as safe as it gets.
And the valuation isn't overly demanding right now.
The P/E ratio of near 30 looks high, but that's only because COVID-19 has whacked earnings from almost every business out there. The P/CF ratio of 18.3 is only modestly higher than the stock's own three-year average of 16.9, and the current yield is roughly in line with its five-year average of 2.6%. Johnson & Johnson is actually one of my top five stocks for 2021.
Thirtysomething Stock to Buy #2: PepsiCo (PEP)
The second stock that I think is a great buy idea for investors in their 30s is PepsiCo (PEP).
This is a household name with 23 different billion-dollar food brands.
Think brands like Pepsi and Doritos. Will people be drinking and eating these billion-dollar foods tomorrow, 10 years from now, and 20 years from now? Almost certainly. And it's this level of certainty that makes this a great long-term investment.
That certainty bleeds down to the dividend, which has been increased for 48 consecutive years.
Another Dividend Aristocrat, Pepsi's been able to increase its dividend for decades on end because it's been able to grow its revenue and profit for decades on end. Now, it won't knock you dead with the growth, with a 10-year dividend growth rate of 7.8%.
But it's the kind of steady-Eddie stock that can be a linchpin for a diversified portfolio of high-quality dividend growth stocks.
And its market-beating yield, which is 2.9%, is potentially enough to live off of, if you had a goal, like me, to retire in your early 30s. This stock gives you a nice balance between yield and growth, which is perfect for your 30s.
The stock is also not terribly expensive here.
Most basic valuation metrics are right in line with their respective recent historical average. The P/CF ratio, for example, is 18.7. That's not far off of its three-year average of 18.5. Paying a fair price for this level of quality in an otherwise expensive market doesn't strike me as a bad idea.
Thirtysomething Stock to Buy #3: Lockheed Martin (LMT)
Last but not least, let's talk about Lockheed Martin (LMT). Lockheed Martin might just have one of the best combinations of yield and growth anywhere.
This world-class defense contractor offers investors a market-beating yield of 2.7%. That's attractive in and of itself. But it gets better. Their 10-year dividend growth rate is 14%.
The dividend, which has increased for 18 consecutive years, is growing briskly. Human conflict has been around since, well, humans. Except now, we're fighting with very expensive machinery, which is where Lockheed Martin steps in and profits. With Lockheed Martin scooping up multibillion-dollar contracts left and right, the company's dividend is set to continue flowing and growing.
If you want quality, it's here.  A fantastic balance sheet? Check. Net margin that's been expanding and now in the double digits? Check. EPS that has tripled over the last decade? Check. There's almost nothing to dislike about this stock. That's also true about the valuation.
The stock's P/E ratio of below 16 is significantly lower than the broader market and belies the quality of the business.
This stock's P/CF ratio has averaged 19.2 over the last three years. It's currently 13.3. This discount is indefensible. I see this as a fantastic long-term dividend growth stock idea, especially if you're in your 30s. It's also one of my top five stocks for 2021.
If you're not in your 30s, no worries. We recently shot a video for investors in their 20s [read transcript here]. And we have videos coming up that'll cover investors in their 40s, 50s, and even 60s.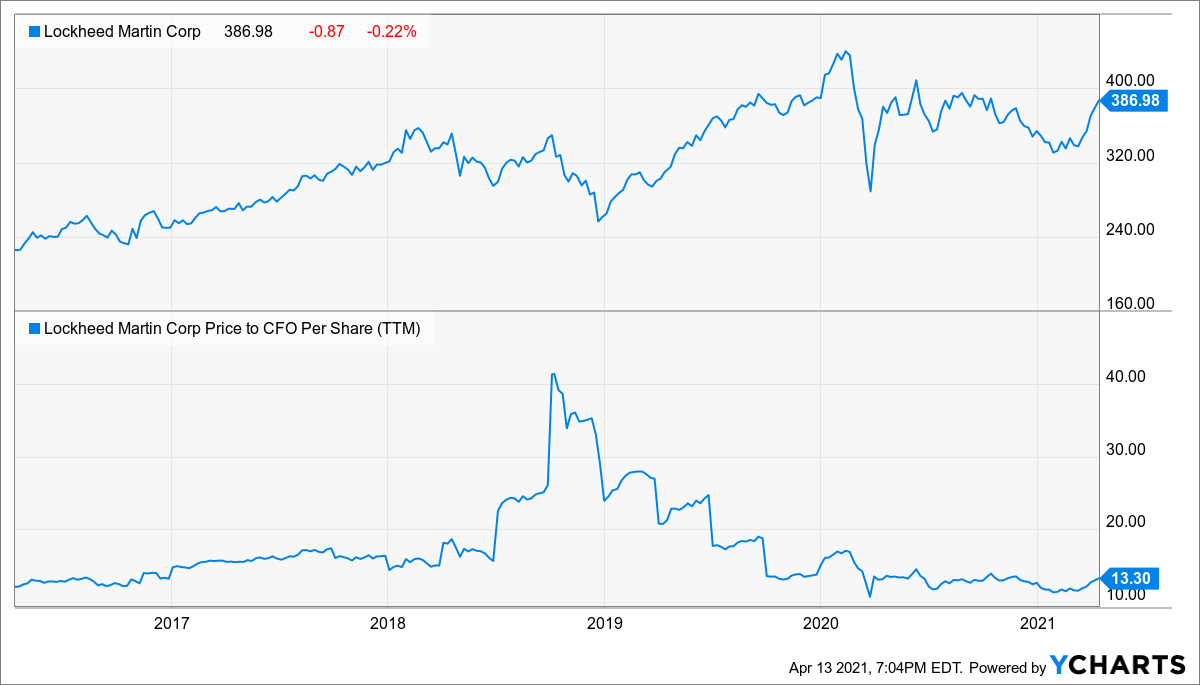 I think all three of these stocks should make for excellent long-term investments, regardless of your age. They should all produce outstanding returns, including a market-beating level of aggregate dividend income. But they could be particularly advantageous for investors in their 30s, due to the balance between yield and growth. These dividend growth stocks are in what I call the "sweet spot" – that is, a yield between 2.5% and 3.5%, with a dividend growing at a mid-single-digit rate or better.
You get plenty of both yield and growth here, without sacrificing too much of either. It's the best of both worlds. As a financially independent investor in my 30s, I have to consider my income needs today but also balance that against the growth needs of tomorrow, all in a way that maximizes quality and safety. These sweet spot stocks do exactly that.
— Jason Fieber
P.S. If you'd like access to my entire six-figure dividend growth stock portfolio, as well as stock trades I make with my own money, I've made all of that available exclusively through Patreon.
Source: DividendsAndIncome.com