I've been living off of dividends since 2016. It's as great as it sounds.
Actually, it's better than it sounds. That's because I'm not just living off of dividends. I'm living off of growing dividends. That's right. My passive dividend income is increasing all by itself.
See, I invest in and make videos on high-quality dividend growth stocks. These are stocks that pay reliable, rising cash dividends. Because the businesses are producing reliable, rising profits.
These businesses are able to do this because they're providing the products and/or services the world demands.
Since inflation means life will get more expensive over time, you need to make sure your passive income is up to the task and can also grow over time. And that's where dividend growth investing comes in.
Every time one of your dividends is increased, it makes living off of your dividends that much easier.
With that in mind, I want to tell you about three dividend growth stocks that recently increased their dividends.
Let's dig in.
Dividend Increase #1: Innovative Industrial Properties (IIPR)
The first dividend increase I want to tell you about came from Innovative Industrial Properties (IIPR).
Innovative Industrial Properties just increased their dividend by 6.5%.
This real estate investment trust specializes in properties used for the medical-use cannabis industry, which could set it up for phenomenal long-term growth.
Speaking of growth, this company tends to increase its dividend multiple times per year.
A 6.5% dividend increase sounds great. But it's a lot better than it looks when you see that it comes on top of a dividend that was increased by 6% just last quarter. And this incredible growth comes on top of the stock's current yield of 3%.
This is still a young dividend growth stock, with only five consecutive years of dividend increases.
But every eventual dividend growth titan has to start somewhere. And this thing is off to a blazing start.
Dividend Increase #2: Globe Life (GL)
The second dividend increase comes courtesy of Globe Life (GL). Globe Life gave their shareholders a nice 5.3% dividend increase just for holding stock.
Hold stock. Get a pay raise. Sounds like a pretty good deal to me. This marks the 16th consecutive year of dividend increases for the financial services company.
Like almost every stock, Globe Life has raced higher after bottoming out in the pandemic panic last March. But with a P/E ratio below 15, this stock doesn't appear to be valued at an unreasonable level.
The one bummer about this stock? It only yields 0.8%.
But in normal times, this stock is typically handing out pretty big dividend increases – the 10-year dividend growth rate is over 10%. So you have to decide if that low yield is worth the trade-off of the higher growth rate.
Dividend Increase #3: Worthington Industries (WOR)
Last but not least, I want to bring to your attention the dividend increase from Worthington Industries (WOR).
Worthington Industries raised their dividend by 12%.
This under-the-radar manufacturing company out of Ohio continues to hand out the dividend increases like clockwork – they didn't even let the pandemic stop them from doing so.
This is the 11th consecutive year of dividend increases for this company.
And there's been plenty of growth, with a 10-year dividend growth rate of 9.4%. When you see a dividend increase larger than its long-term average during a period of unprecedented uncertainty, that speaks volumes about a business and its commitment to shareholders.
This stock is up more than 60% over the last six months.
That meteoric rise has had the effect of lowering the yield, now at only 1.7%. But long-term shareholders have some stock appreciation to comfort them, as well as the fact that free cash flow has more than quadrupled over the last decade. Worthington Industries is getting it done.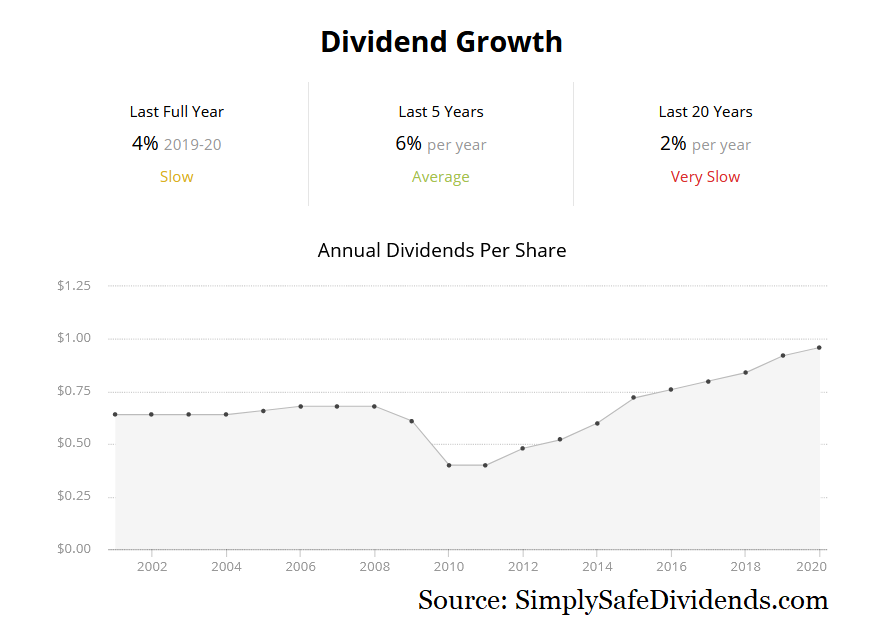 — Jason Fieber
P.S. If you'd like access to my entire six-figure dividend growth stock portfolio, as well as stock trades I make with my own money, I've made all of that available exclusively through Patreon.
Source: DividendsAndIncome.com
We're Putting $2,000 / Month into These Stocks
The goal? To build a reliable, growing income stream by making regular investments in high-quality dividend-paying companies.
Click here
to access our Income Builder Portfolio and see what we're buying this month.