In the sometimes-complicated world of technical analysis, it often pays to just keep things simple.
That's why I spent the morning checking the list of companies making technical moves as their patterns grow stronger. And the simplest way to do that is to scan my database for stocks completing a silver cross.
A silver cross occurs when a stock's 20-day moving average crosses above its 50-day moving average.
Most traders have heard of the golden cross instead. It's similar, but it's signaled when a stock's 50-day moving average moves above its 200-day moving average.
In both cases, the bottom line is the same – a shorter-term trendline crosses above a longer-term trendline. Usually, this signifies a transition from either a correction or consolidation into an uptrend.
Typically, a silver or gold cross is a bullish catalyst for the stock.
My database models scan for gold and silver crosses each day to find stocks moving into Wall Street's "fast lane." But as a trader, I'm more interested in silver crosses than gold.
Why? Because they're more likely to develop into better, faster gains.
While the "cross" puts a stock on my radar, I learn everything that I need to know by putting eyes on the charts – and following two simple rules.
In fact, my database found three stocks with a silver cross today.
But only one follows my rules – and it's signaling a 30% payday come 2021…
Two Simple Rules to Turn a Silver Cross into a Profit Opportunity
Flat 200-Day, Walk Away
Stocks making a silver cross may be in a trading range that is likely to continue. A quick look at the 200-day moving average will tell me what I need to know about a stock's range.
Look at the chart for Altimmune Inc. (Nasdaq:ALT), for example. This stock was on my screen this morning.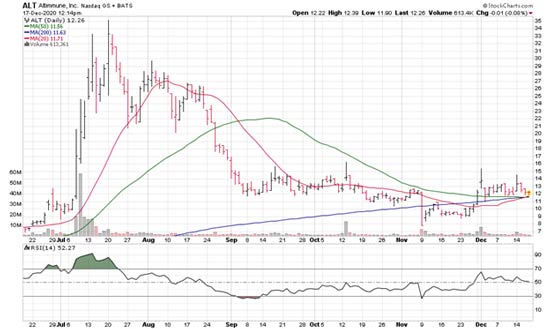 The trading range is made clear by the fact that the two trendlines are relatively flat and directionless. This makes it easier for the trendlines to make "crosses" more often, resulting in almost worthless signals.
Bottom line, I'm not likely to see a fast and aggressive move from the stock, so I'm taking a pass.
2. Rising Trends are a Bullish Trader's Friend
When both the 20- and 50-day trendlines are rising, it's a cue that you're on to something.
Remember my Trading Commandment, "the trend is your friend?" This is almost always represented by a rising 50-day moving average. On average, a stock is likely to close higher the next day two out of three times when the 50-day is rising. That's usually a trend worth trading.
The fact that the 20-day is making a cross above the bullish 50-day tells you that a stock is making a breakout into another trading trend higher. These are usually followed by a bullish breakout.
The chart of Becton Dickinson & Co. (NYSE:BDX) is a good example. BDX is a medical technology company that manufactures and sells medical devices and instrument systems. The stock is on the rise as the healthcare sector gets ready to have a good 2021.
Bottom line: These are the type of stocks that traders want to take a closer look at for great intermediate-term rally potential.
Looking further down the list of silver cross stocks from today, I came across a stock that has some "headline play."
What I mean by that is that there is a fundamental catalyst for the stock to move higher as headlines start to drive buyers into the stock.
The name I'm referring to is Endeavour Silver Corp. (NYSE:EXK).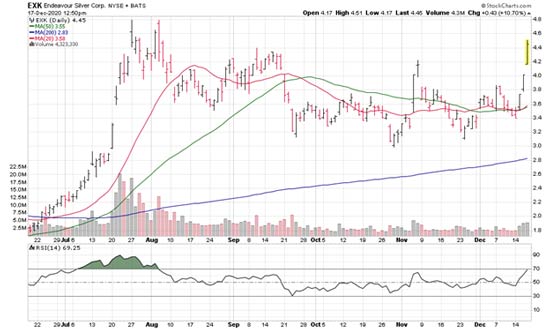 Silver is finally starting to get some traction as Congress hammers out what is likely to be the first of a few more fiscal stimulus packages over the next few quarters. You see, the additional fiscal stimulus has bearish implications on the U.S. dollar. That means traders are looking for ways to hedge the dollar's weakness, and historically, buying silver and gold are one way to do just that.
As a result, silver mining stocks are starting to see a long-awaited shift in their trends as they move from neutral to bullish based on traders bidding their prices higher. It's just the beginning of a trend that I see moving these stocks higher through the first quarter of 2021.
Now, EXK saw a silver cross just a few weeks ago on November 27, and the stock is trading 30% higher from that point. Today, the 50-day moving average's bullish trend adds to the bullishness and targets another 30% rally to $6.00 for the stock.
(By the way, I get the irony of the silver cross on a silver mining company. I hope you did too.)
I'm watching the rest of the mining stocks for similar signals, as this is going to pan out to be a new bull run for miners in general.
For now, consider EXK a nicely timed buy as it prepares to break above its recent range on its way to another 30% payday.
Have a great – and profitable – day,
— CJ
20 Stocks That Benefit from 5G Technology and Could Soar in 2021
[sponsor]
Forget AT&T, T-Mobile, or Verizon – the truth is, you're too late to profit by investing in 5G directly. A better route is to focus on the $1.4 trillion aftershock market that 5G will create – and the 20 companies Michael Robinson has identified. Each is projected to return 10X by the end of the year and could dwarf the 5G gains we've seen already.
Get the details here.
Source: Straight Up Profits