[Wednesday's] big drop in gold stocks gives traders a terrific chance to buy today.
Last Friday, I said to get ready for a "buy" signal in the gold sector. And now we have it.
Let me explain…
The Gold Miners Bullish Percent Index (or "BPGDM") turned higher from oversold conditions on Monday. And that's a green light for buying gold stocks. Here's the latest chart…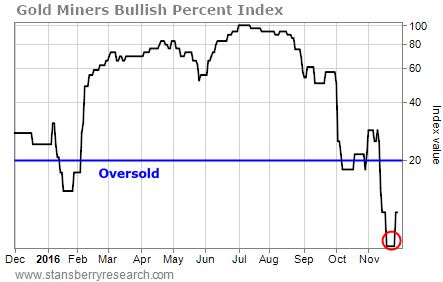 BPGDM measures the percentage of gold stocks that are trading in a bullish formation.
[ad#Google Adsense 336×280-IA]It's a measure of overbought and oversold conditions for the sector.
Readings above 80 – like we saw in July – indicate overbought conditions.
Readings below 20 indicate oversold conditions in the gold sector.
Buy signals occur when the BPGDM turns higher from oversold levels.
That happened on Monday.
The last significant buy signal we got – back in January – marked the bottom for the gold sector. The NYSE Arca Gold BUGS Index ("HUI") rallied 170% in seven months following that signal. Look at the 15-month chart below…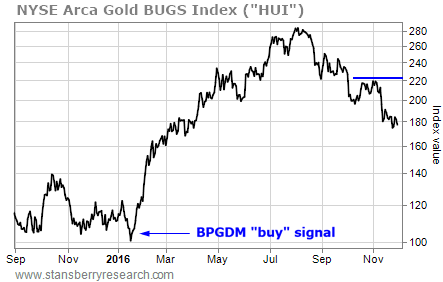 We're not likely to see that sort of rally this time.
Back in January, gold stocks were cheaper and far more oversold than they are today. And the sector had chopped back and forth for several months. That action helped build up the energy for a big rally.
This time, the gold sector has only been chopping around for a few weeks. That's not enough time to fuel a triple-digit rally.
But it is enough energy to fuel a good, short-term bounce. The first target on HUI is the October high at about 220. That's 21% higher than it closed earlier this week. At that point, we can take another look at the BPGDM – and other overbought/oversold indicators – and adjust the upside target, if necessary.
For now, the BPGDM has triggered a buy signal. While conservative investors might wait for an uptrend to return, more aggressive traders should take advantage of any weakness in the gold sector and use it as a chance to buy.
Best regards and good trading,
Jeff Clark
[ad#stansberry-ps]
Source: Growth Stock Wire