The oil sector is tempting investors today.
After all, many of these stocks are historically cheap… and now there are talks of a potential oil deal.
On Wednesday, my colleague Brian Weepie gave Growth Stock Wire readers a dire warning: Beware Chesapeake Energy (CHK). But Chesapeake isn't the only energy stock that could tempt investors today…
As you can see from the following chart, oil stocks – as measured by the SPDR S&P Oil and Gas Exploration and Production Fund (XOP) – are down more than 70% since July 2014…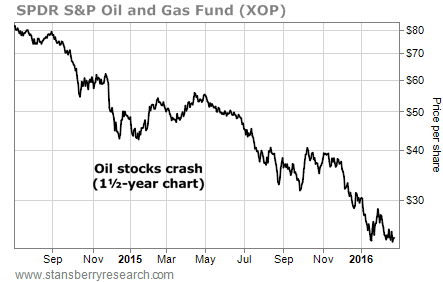 The collapse in XOP shares shows how low oil prices have badly hurt these businesses. Suddenly, they can't pay their bills from the money they make selling oil. Some companies, like Chesapeake, could end up bankrupt.
[ad#Google Adsense 336×280-IA]According to a recent report by consulting firm Deloitte, 21 oil explorers filed for bankruptcy in the second half of 2015.
Some of these companies had revenues of more than $500 million and produced more than 25,000 barrels of oil (equivalent) per day.
In other words, these aren't tiny companies.
Remember, in bankruptcy, shareholders rarely get anything back for their investment.
It basically wipes you out.
That's why dabbling in this sector is incredibly risky right now.
But there are other traps out there for investors besides bankruptcies…
You see, companies can raise money by borrowing it or by issuing more shares. In today's oil climate, both are trouble for investors. Too much debt can drive a company into bankruptcy. Issuing more shares makes each share worth less… diluting the value of your investment.
Five oil companies stand out from the crowd. These are the companies with the most red flags. They aren't bad companies, but right now, they're bad investments because they are struggling the most to survive these low oil prices…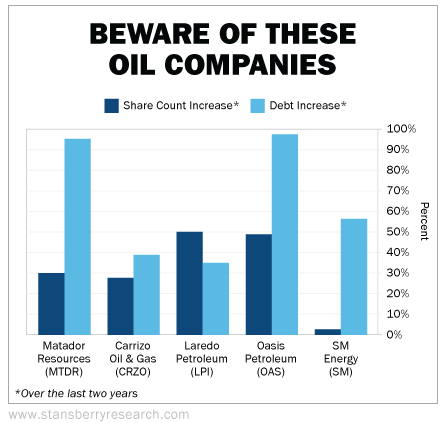 As you can see from the table, these companies are both borrowing money and selling shares to raise money. It's an investor double whammy. If you own shares of any of these companies… get out NOW.
As I explained last week, the oil supply/demand situation isn't going to be fixed soon. That means oil prices are likely to stay low for a while, which will force these companies to raise more cash by issuing even more shares and borrowing even more money.
If oil prices don't rise soon, these companies – and many of their competitors – may go bankrupt. Stay far away from oil producers like these. There are better places to put your money to work today.
Good investing,
Matt Badiali
[ad#stansberry-ps]
Source: Growth Stock Wire