There's an old saying in the mining industry… We lose a little bit of money per ton, but we'll make it up on volume.
It sounds like a joke. How could anyone be that foolish? But it happens during every downturn. Producers can't shut down their mines because they'd go out of business quickly. So they increase production to stay afloat, losing money every quarter, until either the market changes or they go broke.
[ad#Google Adsense 336×280-IA]Even worse, many of these producers tout the increase in production as an accomplishment… misleading many investors.
That's what we're seeing today…
The mining sector has been in a bear market for more than four years.
Since peaking in 2011, gold is down 42%. Silver has declined 66%.
With prices low for so long, even the best miners are suffering.
Take Pan American Silver (PAAS), for example.
Pan American is one of the best-run silver miners in the industry.
Ross Beaty, a mining entrepreneur, is the chairman of the company. His nickname in Vancouver is "the broken slot machine," because he has made so many investors rich.
During the bull markets in silver from 2005 to 2008 and 2009 to 2011, Pan American always traded at a premium to its peers. Its executives run a tight ship. Even today, it has more cash than debt. But that's not the problem.
Pan American announced third quarter results earlier this week. It generated $159.4 million in revenue and $32.9 million in operating cash flow. It also set a new production record for gold and silver. It produced 6.6 million ounces of silver and 53,600 ounces of gold. That's 7% and 57% more than a year ago, respectively.
This might sound like good news… but it isn't.
The company lost $67.5 million for the quarter. That includes a $53.5 million write-down of its Manantial Espejo silver mine in Argentina. However, even if we take that one-time cost out, the company still lost $14 million on its production.
That's because Pan American's all-in costs are higher than the price it's getting for its metals.
Pan American doesn't just mine silver and gold. It also produces copper, lead, and zinc. In 2014, the company produced 9,000 metric tons of copper, 15,000 metric tons of lead, and 43,500 metric tons of zinc. Sales of those metals were used to offset the cost of mining and extracting the silver and gold.
So when we see a "mining cost" estimate, it's usually factoring in the sale of those other metals. Pan American's mining costs are up because the value of copper, lead, and zinc are down 36%, 29%, and 27%, respectively, this year.
It cost the company $16.29 to mine one ounce of silver during the third quarter. But it only sold that silver for $14.75 per ounce.
So Pan American is losing a little on every ounce of silver it produces. It's trying to make up for it by increasing its silver production. But given the huge loss the company took in the third quarter, this strategy clearly isn't working. And the losses are likely to get worse the longer this goes on.
Shares of Pan American are now down around 84% since their peak in April 2011. But they could head even lower if the company continues to struggle.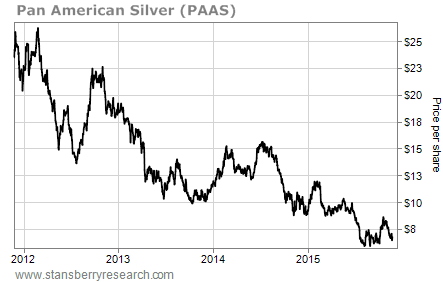 This isn't a problem with just Pan American…
Endeavour Silver (EXK) also increased production of silver and gold by 11% and 9%, respectively, in the third quarter. It turned in a net loss of $14.1 million. Its share price is down around 85% since its peak in September 2011.
Silver Standard Resources (SSRI) lost $30.8 million for the quarter. Like its peers, silver production rose 8% from the last quarter. Shares of the company have fallen around 86% since their peak in April 2011.
I'm not saying any of these miners will go bankrupt. But if metals prices remain low, we'll likely see their losses increase next quarter… and their share prices continue to fall.
In short, investors looking for bargains in the mining industry need to be extremely wary today. Producers who tout increasing production aren't worth owning if that extra production isn't profitable.
Good investing,
Matt Badiali
[ad#stansberry-ps]
Source: Growth Stock Wire