Junk bonds are breaking down.
The bounce off of the "Icahn bottom" I told you about last month is over. High-yield bonds are now trending lower.
And that's a bad sign for stock prices…
[ad#Google Adsense 336×280-IA]Back in March,
I showed you the classic "risk on/risk off" relationship between the stock market and the junk-bond market
.
In short, when investors are willing to take on risk to seek higher returns, they flock to stocks and high-yield junk bonds.
When investors are conservative and seek to protect capital, they sell stocks and junk bonds. So these markets tend to move in the same direction.
And right now, the junk-bond market is breaking down.
Take a look at this updated chart of the iShares iBoxx High Yield Corporate Bond Fund (HYG)…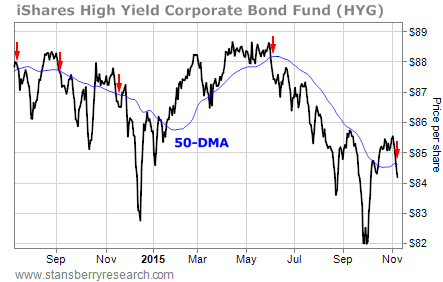 Last Friday, HYG dropped below its 50-day moving average (DMA). That's often considered the defining line between intermediate-term uptrends and intermediate-term downtrends. With HYG now trading below its 50-DMA, it has kicked off a new downtrend.
The red arrows on the chart show each time HYG has broken below its 50-DMA over the past year.
Now, look at how the S&P 500 has performed following each of these red arrows…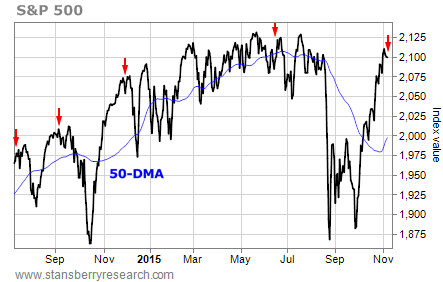 As you can see, previous downtrends in HYG have often led to significant drops in the S&P 500. It doesn't happen at exactly the same time. Drops in HYG tend to lead to drops in the S&P 500 by about one or two weeks.
So consider Friday's breakdown in the junk bond market a warning. Stocks are likely to decline soon.
That doesn't mean investors should go out and sell everything they own today. But now that the stock market has rebounded from its late-summer correction, this is a terrific time for investors to start raising some cash.
Breakdowns in the stock market often give patient investors a chance to buy high-quality businesses at discounted prices. But you need to have cash on hand in order to buy.
The breakdown in the high-yield bond market on Friday is a signal that we may have only one or two weeks left before we get a breakdown in stocks. Take advantage of this situation and raise cash now. You'll likely be able to put it to work later at lower prices.
Best regards and good trading,
Jeff Clark
[ad#stansberry-ps]
Source: Growth Stock Wire