It has been a challenging year for most investors. Outside of the NASDAQ which is market cap weighted, the major indices are largely flat for the year.
The energy and commodities sectors have been absolute disasters over the past year and a half.
Most investors I talk to are down for the year unless they had decent positions in titans like Amazon (NASDAQ: AMZN), Netflix (NASDAQ: NFLX), Facebook (NASDAQ: FB) and Alphabet (NASDAQ: GOOGL); most of which have very stretched traditionally based valuation metrics.
[ad#Google Adsense 336×280-IA]A lot of funds' fiscal years end in October and there were plenty of sectors and stocks to do some "tax loss" selling on this year.
Now that the first big wave of that selling has passed it is time to look at some beaten down names in the market that have had pretty dismal years in 2015 but very well could be big outperformers in 2016.
Here are a couple of stocks I believe have bottomed recently and can look forward to better days in the year ahead.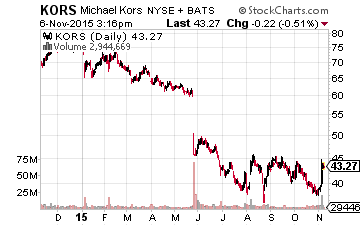 Let's start with luxury retailer Michael Kors (NYSE:KORS) which hit a major hiccup in its growth trajectory this year for the first time as a public company.
The stock started this year over $70.00 a share, cratered to just over $35.00 a share in summer and has just started to rally again after being in a bottoming process for a couple of months.
The trigger for its recent rally was an earnings report that easily stepped over very pessimistic expectations. The company posted earnings of $1.01 a share, 12 cents a share above the consensus. Revenues were up nearly seven percent to $1.13 billion, some $50 million above consensus.
This is impressive given results were impacted by a strong dollar, on a constant currency basis revenues would have been up some 12% year-over-year. Dollar strength has started to moderate recently after big gains over the past year, any slowdown in its appreciation should help Michael Kors in the quarters ahead.
The stock should face easier going in 2016 as it should be able to step over this year's tepid results. More importantly, the stock has become very cheap. The equity started the year going for more than 20 times earnings, it now goes for ten times profits even after its recent rally. The consensus has revenues increasing in the mid-single digit range in 2016.
However, if the retailer does a better job judging consumer trends, wage growth accelerates and/or the dollar quits increasing against major currencies to the same extent it has in 2015; those estimates could be conservative. The company's great balance sheet and double-digit free cash flow yield are hard to ignore.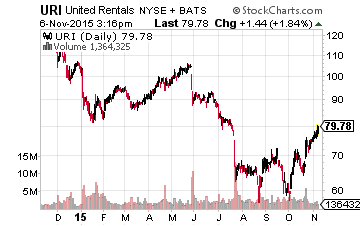 Another troubled stock I believe has bottomed is equipment rental concern United Rentals (NYSE: URI).
The stock started the year at above $100.00 a share and its 52 week high is right below $120.00 a share.
The stock crumbled over the summer on tepid guidance but appears to have bottomed in late summer at right around $60.00 a share.
United recently reported much better than expected quarterly results that has the equity climbing towards $80.00 a share again. On October 22nd, the company posted earnings of $2.57 a share which was almost a quarter a share over the consensus.
One of the best things about United Rentals is it is an efficient competitor in a very fragmented market. The company is more than twice as big as its nearest competitor but still has just 12% of the overall market.
This provides myriad opportunities to continue to buy out smaller and less efficient competitors. This allows United to grow both organically and via squeezing out economies of scale by making strategic acquisitions. There is no reason the company cannot grab 15% or even 20% of the overall equipment rental market over the next half-decade.
Over the past five years the company has spent just over 10% of its capital budget on share buybacks, just over 30% on small acquisitions and the rest on capital equipment.
The company is well-positioned to take advantage of the improving housing market as construction is one of its biggest end markets. Annual housing starts are running at their highest levels since 2007 this year, but are still at only 80% of their 30-year average.
The housing market should be stronger for many years given the huge amount of pent-up demand, decent job growth and historically low mortgage rates. Construction spending is expected to grow in the high single digits in 2016 which will be a strong tailwind for United Rentals.
Earnings per share came in at just over $6.90 a share in FY2014. United Rentals should post just north of $8.00 a share of profits in FY2015. The company could well deliver $9.00 a share in profits in FY2016 if construction spending comes in as projected.
Even with the stock's recent rally that leaves the shares priced at under nine times forward earnings, a huge discount to the overall market multiple.
— Bret Jensen
[ad#ia-bret]
Source: Investors Alley
Positions: Long KORS and URI