"Welcome to THE MELT UP." That was the theme of my speech at our Stansberry conference in Las Vegas a few weeks ago…
The idea was simple…
Stocks could absolutely soar over the next 18 months, as we come out of the extreme of fear in August.
[ad#Google Adsense 336×280-IA]You could feel the fear at our Vegas conference… Our speaker lineup was loaded with famous investors and hedge fund managers.
Most of them were extremely pessimistic.
The thing is, whenever we reach an extreme of fear in the markets, a bottom is often right around the corner.
Once the uptrend returns, you MUST own stocks. In August, we reached that extreme of fear. In September, the uptrend returned.
I was shocked at just how extreme the August extreme actually was… Fear levels were comparable to those of Black Monday 1987 or to those after the Asian Crisis in 1998.
The 1998 correction is a great one for us to learn from today…
In late 1998, investors were scared…
U.S. stocks had experienced a violent correction. From peak to trough, they fell 19%.
This had a big effect on investor psychology… You see, stocks hadn't fallen this much from their peak since Black Monday in 1987 – when they fell more than 20% in one day.
"Bleak" was the best way to describe the feeling in late 1998… The Asian crisis was in full swing and U.S. stocks seemed expensive. In early September 1998, investor sentiment hit its lowest level of the entire decade, according to the Advisor and Investor Model ("AIM") on SentimenTrader.com.
Investors thought this was surely the end of the boom. Stocks had been up every year of the decade (when you included dividends). Take a look:
Of course, investors got it completely wrong… You know what happened to stock prices after late 1998…
Over the next year and a half, the Nasdaq soared from about 1,500 to more than 5,000. That was a gain of more than 200%… in 18 months. (Even the "regular" stock index – the S&P 500 – soared by more than 60% in that time.)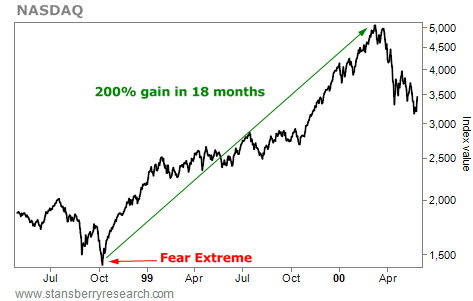 Many investors missed this massive run. They were scared that the bull market was over. Remember, the run started during the lowest sentiment level for the entire decade.
The previous time investors were this bleak (based on the SentimenTrader AIM) was right after Black Monday in October 1987. Of course, just like in 1998, stocks soared after investor sentiment hit a record low. The stock market went up 40% in less than two years after Black Monday.
Those two dates were extreme circumstances. It takes a lot to have an investor sentiment reading as extreme as it was on Black Monday or in late 1998.
But surprisingly, we hit a major extreme in investor sentiment at the end of August.
I say "surprisingly," because it usually takes a dramatic bust to scare the bejesus out of people… But this time around, all it took was a 12% fall, peak to trough. Why did this relatively small correction scare people so badly? I think they were already edgy and predisposed to looking for the "bad" in the market.
The message from history is clear – when investor sentiment gets as extreme as it did in August, and the uptrend returns, then you want to own stocks. We have an incredible opportunity today.
Today, it's potentially like late 1998 – all over again – in U.S. stocks. It's time to be in.
Welcome to THE MELT UP…
Good investing,
Steve
[ad#stansberry-ps]
Source: Daily Wealth