Danger ahead…
That's the warning investing legend Carl Icahn gave last month about the high-yield bond market. Icahn warned about the valuation concerns, liquidity problems, and bankruptcy risks in these bonds.
[ad#Google Adsense 336×280-IA](Icahn's video does a terrific job of explaining the potential problems. If you haven't seen it, you can watch it
here
.)
Icahn's comments ignited a firestorm of selling pressure that caused high-yield bonds to drop to their lowest level in two years.
But since then, these bonds have put on an impressive bounce…
Take a look at this chart of the iShares iBoxx High Yield Corporate Bond Fund (HYG)…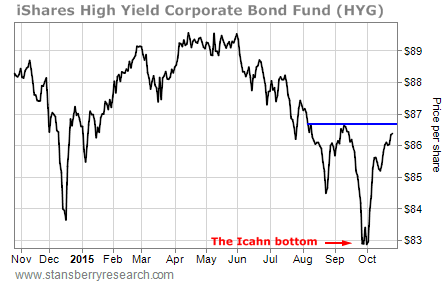 HYG bottomed within one day of Icahn's comments. These bonds have recovered almost everything they lost in September. The sector is close to making a new high for the year.
Don't be fooled by the move… There are still significant risks to owning high-yield bonds.
High-yield bonds are corporate debt that is rated lower than investment grade. In other words, these are the bonds that corporations will have a difficult time making payments on when times are tough. If there's any problem in the economy, these bonds could easily default.
As a result, high-yield bonds usually pay a much higher interest rate than their investment-grade counterparts to compensate investors for that risk.
But investors aren't getting paid for that risk right now. The spread between investment-grade-bond yields and junk-bond yields remains among the lowest in history.
That hasn't stopped investors from piling in, though. Icahn says we have $2.2 trillion in high-yield bonds right now, up from $1 trillion five years ago.
Reality is going to set in soon… just like it did following the dot-com and housing busts. And high-yield bond investors are going to get hurt.
In short, if you own any high-yield bonds, get out now.
Best regards and good trading,
Jeff Clark
[ad#stansberry-ps]
Source: Growth Stock Wire