The gold sector is gearing up for a big move.
Gold stocks have been hammering out a bottom since July… the same sort of bottoming action we saw last November.
If the similarities continue, we could see gold stocks rally as early as next week.
Take a look at this updated chart of the Market Vectors Gold Miners Fund (GDX)…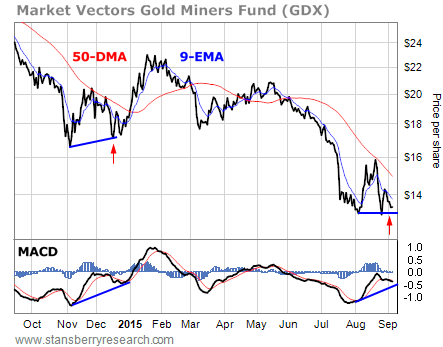 The big drop in July caused a lot of technical damage to the chart.
I've been arguing for the past several weeks that it would take a period of choppy, back and forth action to work off that damage and set up the conditions necessary for a new rally phase.
We're getting closer to that bullish setup. GDX has been chopping around for about six weeks.
[ad#Google Adsense 336×280-IA]That's about the same amount of time it took for GDX to form a bottom last November and December.
The moving average convergence divergence (MACD) momentum indicator also looks the same now as it did back then.
If the similarities continue, GDX should rally back above its nine-day exponential moving average (EMA) within the next week or so.
That could mark the start of the next rally phase for gold stocks.
Also, it may be just a coincidence, but the timing lines up well with next week's Federal Open Market Committee (FOMC) announcement.
The FOMC is scheduled to make an announcement about interest rates on September 17. Recent surveys suggest that about half of market participants expect the FOMC to raise rates next week. The other half expects rates to remain where they are.
No matter what the FOMC decides to do, though, it's going to have an impact on gold stocks. The FOMC has met five times so far in 2015. Each meeting occurred days before a large move in gold stocks.
Take a look…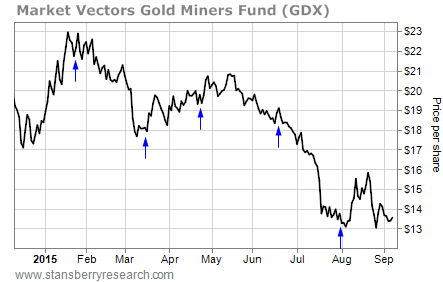 The blue arrows mark the spots of the previous FOMC announcements this year. You can see the large moves made by the gold sector shortly thereafter.
There's no consistent direction to the moves, though. So there's no way we can know ahead of time which way gold stocks will break following the FOMC's announcement.
But given how similar the current GDX chart looks to the pattern it formed at the bottom last November and December, I'm leaning bullish on the gold sector. But, once again, there's no guarantee. The only thing we can say for sure is that gold stocks are setting up for a big move.
Best regards and good trading,
Jeff Clark
[ad#stansberry-ps]
Source: Growth Stock Wire