Oil stocks are bottoming.
That doesn't mean the sector is set up for a huge rally and it's time to buy every stock with "oil" in its name. Bottoming is a process. It's a period of low-level consolidation, where stocks chop back and forth in a relatively tight trading range and store up energy for a new rally phase. That consolidation can take several weeks, or even months, to complete.
But oil stocks probably aren't headed much lower…
Take a look at the benchmark Energy Select Sector SPDR Fund (XLE)…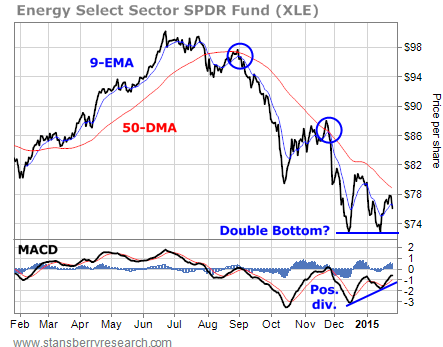 XLE bottomed in December at about $72 per share. Following a 10% rally, XLE came back down and re-tested the $72 level earlier this month.
[ad#Google Adsense 336×280-IA]That retest occurred with positive divergence on the Moving Average Convergence Divergence (MACD) momentum indicator.
In other words, while XLE was making lower lows, the MACD was making higher lows.
That was a good sign the $72 level would hold as support.
It did. And XLE has bounced about 5% higher since then.
With a double bottom now in place, it's unlikely XLE is going to break below that $72-per-share support line anytime soon.
But it's also unlikely XLE is ready to take off sharply higher just yet. You see, the nine-day exponential moving average (EMA) is still trading below the 50-day moving average (DMA), which indicates the downtrend is intact.
The nine-day EMA needs to cross above the 50-DMA to kick off a new bullish trend for the energy sector. Getting too aggressive right now and trying to anticipate that "bullish cross" is dangerous.
Look what happened in September when the nine-day EMA failed to cross over the 50-DMA. Look at what happened with the same setup in late November. Buying oil stocks in both of those situations would have been a disaster.
This time, we do have a double bottom in place, and we do have positive divergence on the MACD indicator. So the odds of a bullish cross are better. But it's still going to take at least a couple more weeks for that to happen. And if oil stocks chop back and forth for a while, it could take much longer.
The good news, though, is oil stocks have started the bottoming process.
And there's a lot of value in the oil sector right now, even with oil trading near $40 per barrel. Many oil stocks are trading with single-digit price-to-earnings (P/E) ratios – a big discount to the S&P 500's P/E ratio above 17. Many offer dividends of more than 3%. And many are trading at steep discounts to their book value.
So value investors can slowly start accumulating shares of oil stocks. But it isn't the time to make a lot of speculative bets that oil stocks are headed higher right away. Aggressive traders should wait until the chart shows a bullish cross before betting on an oil stock rally.
Best regards and good trading,
Jeff Clark
[ad#stansberry-ps]
Source: Growth Stock Wire