Billionaire energy mogul Richard Kinder just made a big bet on pipes.
If you're interested in making money from the biggest energy trend of our lifetimes, you should consider doing the same…
Richard Kinder is one of the most respected names in the energy industry.
Kinder built an oil-and-gas empire that owns the world's largest collection of midstream assets (assets used to process, store, transport, and market oil and gas – like pipelines and storage tanks).
[ad#Google Adsense 336×280-IA]These assets connect the producer with the refiner or customer.
Kinder's empire owns an interest in or operates 80,000 miles of pipelines and 180 terminals (facilities used to store oil and gas and facilitate the import or export of these products).
With the surge in U.S. oil and gas production in recent years, the need for infrastructure to transport oil and gas has grown.
An ample supply of oil and gas is useless if you have no way to transport it to refiners and customers.
One of the sectors that has profited the most from America's infrastructure buildout the past few years is master limited partnerships (MLPs). Most MLPs own and operate midstream assets, like pipelines.
As you can see in the chart below, the increased need for processing, storing, transporting, and marketing oil and gas has helped push MLPs into a big bull market. Since 2009, the benchmark Alerian MLP Index has returned more than 190%. The S&P 500 has only returned a bit more than half that over the same period.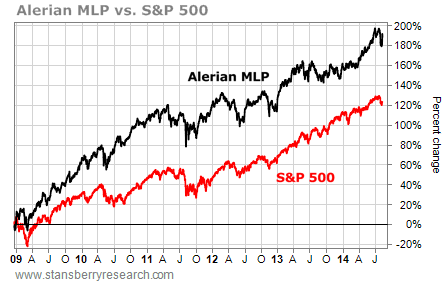 After these strong returns, many think the bull market in MLPs is coming to an end. But Kinder is betting that midstream companies have further to run.
On August 10, Kinder's pipeline company, Kinder Morgan, Inc. (KMI), announced it will buy Kinder's three MLPs – Kinder Morgan Energy Partners, L.P. (KMP), Kinder Morgan Management, LLC (KMR), and El Paso Pipeline Partners, L.P. (EPB).
KMI will pay more than $40 billion to buy KMP, KMR, and EPB. With the debt KMI will assume, the transaction adds up to more than $70 billion… making it the second-largest deal in the history of the energy industry – behind the $84 billion Exxon paid to acquire rival energy company Mobil in 1999.
Kinder is consolidating his companies to continue to grow his pipeline business. After the deal, the new company is expected to have a $100 billion market cap. Right now, the sum of the market cap of Kinder's companies is $105 billion. Kinder says the new company will use its shares to "pursue expansion and acquisitions in a target-rich environment."
You see, Kinder knows the U.S. needs new storage facilities and pipelines to transport the huge amounts of oil and gas it is – and will continue – producing. These pipelines are the toll roads of the energy industry.
As we've told you in these pages before, we expect the U.S. to recover around another 300 billion barrels of oil in the years ahead. That's more oil than the U.S. has produced in the history of the oil industry AND all the oil reserves we have today.
To keep up with the massive amount of oil and gas we'll produce in the years ahead, U.S. energy infrastructure will require a massive buildout.
Investment bank Jefferies estimates the future annual funding requirement for the infrastructure buildout needed is roughly $80 to $90 billion. That means a massive amount of money will soon be headed for midstream companies. For comparison, last year, midstream MLPs attracted just $75 billion in investment.
With more money moving into the sector, shares of midstream MLP companies should soar higher. For example, shares of KMP, KMR, and EPB jumped an average of 21% on Monday on news of the Kinder Morgan deal. That's a significant premium for these companies.
Midstream companies that operate pipelines in the best U.S. shale areas will profit the most. But if you don't want to spend time researching individual stocks, one of the easiest ways to profit is to take a position in an MLP fund. Each of the funds listed below tracks the Alerian Index shown above.
As we've said before, the U.S. energy boom is this decade's greatest investment theme. And with more oil and gas, companies that provide the assets needed to store and transport it will continue moving higher in the years to come.
Good investing,
Brian Weepie
[ad#stansberry-ps]
Source: Growth Stock Wire