Bank investors are making great money these days…
And when you look at the big picture, you'll see that the gains are likely to continue.
As measured by the big banks in the S&P 500, bank stocks fell 83% from their peak before the financial crisis.
Since then, they're up more than 225%… but that's only about 50% of where they were trading at before they blew up their balance sheets.
Investors still haven't put much faith in bank stocks… but that's beginning to change.
Let me explain…
There are two parts to this equation:
The health of the underlying banks…
And the value investors will pay for them.
First, let's start with the banks themselves…
Since the crisis, banks have built up their balance sheets and cut out bad debt.
As you can see in the chart below, the number of "charge-offs" – or loans that will not be collected because banks have written them off as having gone bad – has steadily declined for years now.
At the same time, total assets have been climbing again, consistent with banks rebuilding their businesses…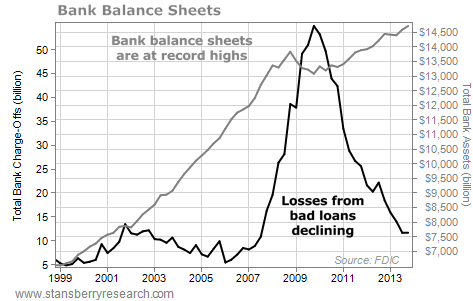 As I said above, the health of the banks isn't the only part of the equation…
[ad#Google Adsense 336×280-IA]Investors have slowly been willing to assign higher valuations to bank stocks, too.
When you look at the financial sector, the price-to-book ratio is the best measure to judge valuation.
Bank shares are finally trending higher…
It wasn't long ago that financials traded for less than book value, meaning investors wouldn't even pay $1 for $1 in real value.
The current valuation of 1.3 times book value is indicative of investors moving into bank stocks again.
But, as you can see in the chart below, there's still room to run. Today's price is still lower than what it has been for most of the last 20 years.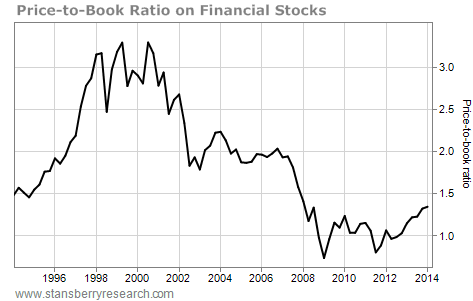 My colleague Frank Curzio also likes banks this year. In fact, he says it's his favorite trade of 2014. In short, Frank believes rising interest rates, cash flow from selling off assets, and increasing dividend yields are all catalysts that will help bank stocks rise in the coming years.
Bank stocks may post a year or two of good returns, but there is a problem with the sector: They may never be "buy-and-hold" investments ever again.
Investors are still afraid to buy the big banks as buy-and-hold investments. And they may be right in the long term… The next time our economy is overheated, the sector could blow up again.
But that is exactly why bank stocks are cheap today.
I believe the economy is improving. And we're a long way from the euphoria and risky lending that accompanies banks at a peak in the market.
Getting an edge in markets is about being ahead of the crowd. Bank stocks are bound to rise as the financial crisis fades in investors' memories. You can profit simply by being one step quicker…
The easiest way to make the trade is with the Select SPDR Financials Fund (XLF). Just remember that this is a trend trade… not a buy-and-hold.
And if you're looking for something more long term, regional players like M&T Bank (MTB) take less risk and pay better dividends than the big banks.
Here's to our health, wealth, and a great retirement,
Dr. David Eifrig
[ad#stansberry-ps]
Source: DailyWealth