If you're betting on higher natural gas prices, you could be in for a shock.
Cold temperatures across the U.S. caused natural gas prices to jump this year. Prices have so far held above $4 per thousand cubic feet (MCF) in 2014. The price spiked as high as $8 per MCF in February.
The higher price has pushed natural gas stocks higher. Natural gas companies like San Juan Basin Royalty Trust (SJT) and Encana (ECA) are near 52-week highs.
But the natural gas stock rally is ending…
[ad#Google Adsense 336×280-IA]As longtime readers know, natural gas prices have been low for the past several years.
New technologies have allowed oil and gas companies to tap into massive amounts of natural gas.
In 2006, U.S. production of natural gas was 23.5 trillion cubic feet (TCF).
In 2013, the U.S. produced 30.1 TCF of natural gas.
That's a 28% increase in seven years.
It's even more amazing when you consider that production was flat over the prior 12 years.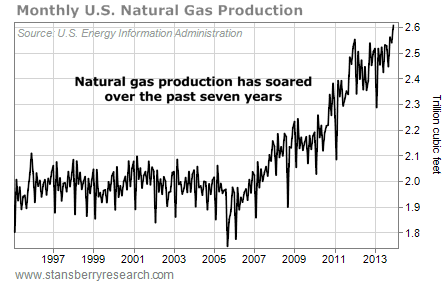 The increase in supply drove the price down. In 2005, natural gas prices were more than $15 per MCF. By 2012, they were below $2 per MCF.
With sky-high prices in 2005, natural gas was the priority for oil and gas companies. Even after production increased, prices still remained above $6 per MCF for the next four years. Over 80% of the drilling rigs operating in the U.S. drilled for natural gas during that time. Shale plays like the Haynesville in Oklahoma and the Barnett in Texas took off.
But as production continued to increase, the trend switched. Falling gas prices began to push operators out because they couldn't make money. The share prices of natural gas producers plunged. By July 2011, there were more rigs looking for oil than natural gas.
Fast-forward to today. Nearly the entire drilling rig fleet is looking for oil. But we still have an abundance of natural gas. Production continues to climb each year. And the overabundance of supply has kept prices low.
However, the severe winter across much of the U.S. has pushed demand for natural gas higher than expected this year. We've used so much natural gas that the volume in storage is at its lowest amount in a decade. This drove prices back up.
It's expected that higher prices will help increase the earnings of natural gas companies this year. On this expectation, investors have already sent these stocks soaring.
But it won't last. This winter was an anomaly and natural gas production should keep growing. According to the U.S. Energy Information Administration (EIA), natural gas production will grow 2.5% this year and another 1.1% in 2015. This is already helping push natural gas prices back down.
You may not have noticed the drop in the price, especially if temperatures are still below freezing where you live. But after spiking in February, natural gas prices are back down to around $4.40 per MCF.
The EIA predicts the average price of natural gas this year will be $4.58 per MCF. That's up 19% from last year and a whopping 61% from 2012. However, the price will fall back to $4.26 per MCF in 2015. I see this trend continuing as production keeps increasing.
In short, don't bet on natural gas prices boosting natural gas stocks. Natural gas prices are already falling. And the share prices of natural gas companies should also cool off as we move into summer.
Good investing,
Matt Badiali
[ad#stansberry-ps]
Source: The Growth Stock Wire