If you're worried about trouble in the stock market, there's one sector you need to keep an eye on.
Banking stocks are the market's version of the canary in the coal mine. If there's going to be a correction, it'll show up first in these stocks.
The Financial Select Sector Fund (XLF) broke out to a new high last week. And so far, it has been immune to the volatility this week. That makes it tough – even for diehard skeptics like me – to argue there's trouble brewing in the stock market.
But the momentum of the financial sector could change course at any moment…
Take a look at this chart of XLF…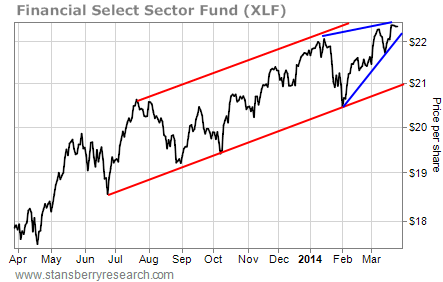 The red lines represent the support and resistance lines of a rising channel. It's a series of higher highs and higher lows – which is bullish.
[ad#Google Adsense 336×280-IA]The blue lines within the channel, however, outline a rising-wedge formation.
That's a potential reversal pattern, which is bearish.
Most of the time, rising-wedge formations break to the downside.
So if XLF breaks below the support line of the wedge – at about $22 per share – the canary will be telling us the stock market may be entering a rough spell.
Perhaps it'll be just a mild correction, similar to what we saw in January… and XLF will remain inside its rising-channel pattern.
But – and this is a big BUT – if XLF breaks the rising wedge to the downside and breaks below the support line of the rising-channel pattern, there's a bigger problem. XLF will be signaling it's time to get out of the stock market.
Pay attention to this chart. If there's trouble ahead for the stock market, XLF will give you the first warning.
Best regards and good trading,
Jeff Clark
[ad#stansberry-ps]
Source: The Growth Stock Wire