Greetings from Shenzhen, China.
If you're an American, I have some big news for you…
China is no longer the source for cheap labor in the world.
The brutal reality is, China simply can't compete on price going forward.
For most Americans, that news will come as a shock. So let me explain…
[ad#Google Adsense 336×280-IA]First, a little background…
I first visited Shenzhen in 1996.
At the time, the American view was that China was full of sweatshops… where Chinese workers earned just $50 a month, working in terrible conditions at unsafe factories.
But once I saw things for myself in China, I learned that the reality was much different…
The first company I visited in 1996 in Shenzhen was Konka Electronics.
I was amazed…
Most of the workers at Konka had actually traveled hundreds or even thousands of miles to take that job. And at the end of the month, they sent most of their paycheck back home. They didn't have many expenses, since food and accommodations were included in their pay.
Even better, Konka's factory was so clean, you could have eaten off the floors. Konka's operation was modern, and working conditions seemed excellent – a far cry from the American image of "sweatshops."
At Konka, factory workers earned about $100 a month. Of course, $100 a month sounds terrible by U.S. standards. But the reality was, in 1996, $100 a month was a lot more than the $2 or $3 a month they could have earned back home on the farm. It was worth it to travel to Shenzhen to work for Konka.
Fast-forward to today…
My, how things have changed in Shenzhen! The pay for factory workers has soared. (More on that in a minute.) And the city's population has exploded… from 1 million in 1990 to over 10 million today.
I thought that huge population explosion would mean chaos – a city bursting at the seams.
The reality is much different…
Shenzhen… through my car window… in 2013: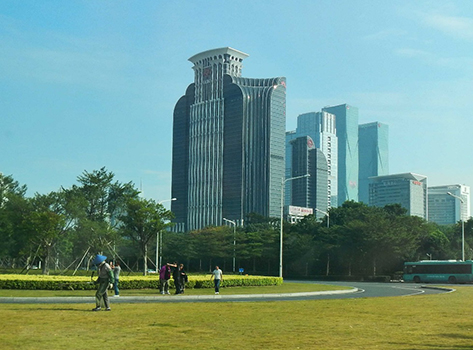 Somehow, they pulled it off. It seems the Chinese managed the growth of Shenzhen pretty darn well.
The highways are nicer than at home. The skyscrapers are nicer than at home (and they go on for miles and miles). Heck, even the country clubs are nicer than at home!
We ate lunch at the Mission Hills country club. Check it out:

I can tell you, the Chinese have studied the best of what the Americans have done – and they have copied it well (with Chinese characteristics, of course). I urge you to check out Mission Hills for yourself.
Lunch at the clubhouse at Mission Hills China:
mission hills china clubhouse
My host on this trip was Peter Churchouse of the Asia Hard Assets Report. Peter has lived in Hong Kong for the last 35 years and is one of the top investment guys in Hong Kong.
Peter arranged for us to visit a clothing factory in Shenzhen. My expectations were already high. But I was shocked by the quality of the factory and the quality of the products…
"We HAVE to compete on quality," the factory manager explained. "We have no choice."
What did he mean? He went on to say…
I can't compete with Bangladesh. We pay our factory workers $600 a month. In Bangladesh, the pay is closer to $60 a month. How can we compete on price with that?

We only produce high-end clothing brands here, and we have close working partnerships with them.
We saw the brands he produced at his factory… and they were MOST of the high-end men's clothing brands in America. (Yes, MOST of them.)
I asked if we could take pictures. He said we could take pictures of anything, but he asked us to leave out the labels.
So here's a look inside his Chinese factory today for you. This picture shows the final assembly of one type of shirt… The guy on the left irons the shirt, the girl on the right folds it: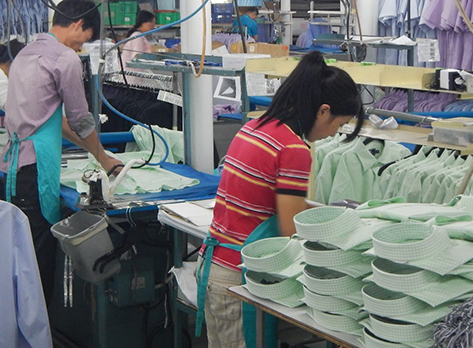 It isn't glamorous work. But working conditions looked pretty good – way better than working in America washing dishes at a restaurant, for example.
Employees seemed pretty happy. They were chatty and smiling on their way to lunch. In general, they behaved like clean-cut Americans in their early twenties. (The manager told us the average employee age is about 25.)
Looking ahead, the factory manager explained to us that China has no chance at competing on cost in the future…
Bangladesh and Vietnam have China beaten on price, he explained, and Africa could become a low-cost producer in maybe 20 years. The issue in those places, he explained, will be human rights. They are poor countries.
Shenzhen, China on the other hand, is just as modern as any city in America. Don't get me wrong. I wouldn't want to live here. I love where I live in Florida. But I'd be a blind fool not to admit what I saw with my own eyes…
Look, China is way more advanced than you think… Americans don't know this, and they are underinvested.
In my newsletters, we are heavily invested in China and emerging markets. Based on this trip so far, I am extremely happy with those positions…
I highly recommend that you add some exposure to China to your portfolio… now.
Good investing,
Steve
Sponsored Link: While I think just about every emerging-market opportunity could do well over the next few years, there is one I'm especially interested in: For every $1 you risk, you could make $14. Plus… it's yielding a safe 3.8%. There's a more detailed description of this idea, which covers the "low-downside/high-upside" nature of this trade, online right now. Click here to read it. (It'll take you less than five minutes.)
Source: DailyWealth