I just freefell 764 feet…
In around 10 seconds, I fell down the side of the Macau Tower, reaching speeds of over 100 miles an hour.
It was my first bungee-jumping experience… And it wrapped up my visit to another one of the world's regions outpacing America… China's Macau.
Here's the view of Macau from 764 feet in the air: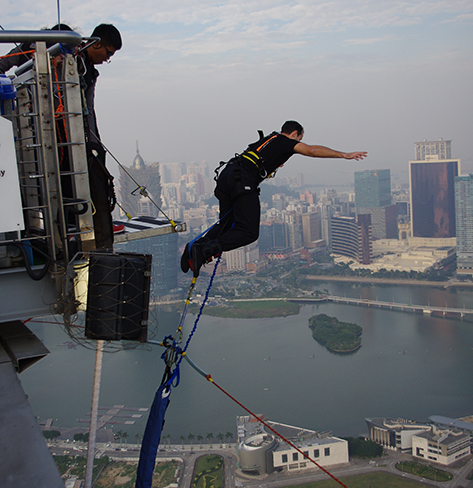 Most Americans have never heard of Macau… but it's one of the most remarkable places I've ever seen.
Imagine Las Vegas – but six times its current size in gambling… and decades into the future. That's Macau.
[ad#Google Adsense 336×280-IA]You see, due to an accident of history, Macau is the only place in China that legally allows gambling.
It's part of China, but it actually has its own government.
So Macau is called a Special Administrative Region of China, like Hong Kong.
This allowed it to quickly develop into the Las Vegas of China.
I just toured Macau with Steve Sjuggerud and Tama Churchouse.
(Tama works with his father Peter Churchouse on the excellent Asia Hard Assets Report.)
We drove up and down the various strips of casinos and hotels. At the Venetian Macau, I saw the ridiculous scale of the city firsthand…
The Venetian Macau sports around 550,000 square feet of gaming. That's well over twice the size of Las Vegas' largest casino. And you could easily spend an hour walking through the immense gaming floor.
The enormous size and scale of these casinos is no accident… The Chinese love to gamble.
Tama explained that mainland Chinese often spend weekends in Macau without even booking a hotel room. They'll spend 18-24 hours at the table, take a break for a massage, and catch a few hours rest in the spa. Then they're back to the tables.
A 48-hour trip could lead to 36 hours at the tables. It's no wonder you can hardly find a seat on these enormous casino floors on a weekend…
Of course, this massive scale and serious gambling culture shows up in the numbers…
Macau made around $38 billion in gaming revenue last year. In comparison, the Las Vegas Strip made around $6 billion. And while Las Vegas revenues rose less than 1%, Macau's soared by 13.5%.
Going forward, Las Vegas will likely continue to experience slow growth. But some analysts believe Macau gaming revenues could double over the next five years.
I realize these numbers seem unbelievable. But after visiting, I'm not surprised…
Outside of huge five-star hotels and casinos, the most common thing in Macau is construction cranes. Literally hundreds fill the skies. It seemed like every clear piece of land had a new casino going up in its place.
The scale is amazing. But the construction means it'll be even more incredible five to 10 years down the road. There's nothing I can see to stop Macau's growth.
And it's just more proof that Asia has America beaten. If you're looking for growth, consider putting some of your money to work in Asia through the coming years…
Good investing,
Brett Eversole
[ad#stansberry-ps]
Source: DailyWealth