It has been a marvelous month for the stock market.
During what is often viewed as a dangerous month for stocks, the S&P 500 is up 5.6%.
But based on history, investors will be giving back a good chunk of those gains in November…
Take a look at this monthly chart of the S&P 500 plotted against its Bollinger Bands…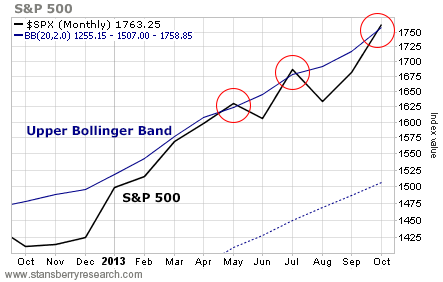 The S&P 500 is currently trading above its upper monthly Bollinger Band. Bollinger Bands measure the most probable trading range for a stock or an index.
[ad#Google Adsense 336×280-IA]So whenever the S&P 500 moves outside of its Bollinger Bands, it indicates an extreme move – one that is likely to reverse.
The red circles on the chart show each time this year the S&P 500 has been in a similar condition.
Stocks dropped almost 2% in June and 3% in August after the S&P 500 closed above its upper monthly Bollinger Band.
Those declines are mild – especially considering the large gains investors have enjoyed this year.
So a lot of folks might look at this chart and think there's nothing to worry about.
Think again.
Although it has happened three times so far in 2013, it's rare for the S&P 500 to rally above its upper monthly Bollinger Band. In the last 10 years, it has only happened six times.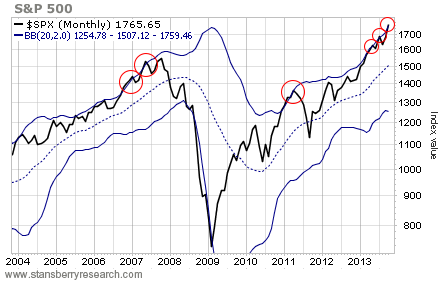 Aside from the three recent events, the last time the S&P 500 closed above its upper Bollinger Band was in April 2011. And it dropped almost 20% in four months.
In 2007, we had two events close together. Each one led to an immediate, modest decline in the stock market. Stocks topped out shortly thereafter. Then we got the brutal bear-market decline that cut the value of the S&P 500 in half.
If the index closes above its upper monthly Bollinger Band today, we'll have four events in the past five months. At best, we can hope for a small decline in November.
At worst, stocks may be on the cusp of a far more significant correction.
Best regards and good trading,
Jeff Clark
[ad#stansberry-ps]
Source: The Growth Stock Wire