After all the big gains in stocks lately, where can you find cheap stocks now?
They're not easy to find…
The U.S. stock market is up 24% in 2013. So you might need to consider stocks outside the U.S.
Ah, but that doesn't do it, either… Japan's Nikkei Index is up 33% over the last year. And Europe's blue-chip index – the Euro Stoxx 50 – is up 36% in the past two years.
[ad#Google Adsense 336×280-IA]After all these big gains, finding truly cheap opportunities is getting harder.
However, there is one place that hasn't run away from us yet…
If you're willing to step outside your comfort zone, you have an opportunity to buy a beaten-down stock market that's poised to soar.
Let me explain…
I tapped our massive True Wealth Systems databases to find the world's cheapest stock markets.
And it turns out, the real value out there is in emerging markets…
But I dug deeper. I sized up emerging markets on three different measures – book value, earnings, and dividend yield – to determine which countries offer the best value, based on their own history.
Take a look at what I found… It turns out that Russian stocks are the cheapest now relative to their history based on book value, earnings, and dividend yield:
Russian stocks are crazy-cheap compared to their history. Based on earnings, they trade at a 35% discount to their historical price-to-earnings (P/E) ratio… and that's not even the crazy part.
Russia's RTS Index trades for just 4.5 times next year's earnings, as I write. That's cheaper than any major stock market on earth.
There's no question… Russia is dirt-cheap compared to both its own history and the rest of the globe.
And importantly, Russian stocks have been trending higher over the last few months. The Market Vectors Russia Fund (RSX) is on the verge of breaking out of its two-year trading range. Take a look: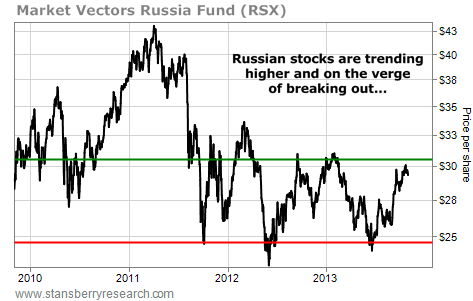 As you can see, Russian stocks are up big since the middle of this year. RSX is up 22% since bottoming in June.
And a breakout of the current trading range could lead to even bigger returns. From current prices, I wouldn't be surprised to see RSX double in value over the next couple years.
Today, emerging markets are cheap, and they're beginning to exit their multiyear bear market. Russia is the cheapest of the cheap. And I believe it's just getting going.
The opportunity to buy an entire stock market at today's ultra-cheap value doesn't come around often.
While it might seem uncomfortable to invest in Russia, with this incredible value and a new uptrend in place, it's a risk worth taking today. And shares of Market Vectors Russia Fund (RSX) are the easiest way to invest.
Good investing,
Brett Eversole
Sponsored Link: While I think just about every emerging-markets opportunity could do well over the next few years, there is one I'm especially interested in: For every $1 you risk, you could make $14. Plus… it's yielding a safe 3.8%. There's a more detailed description of this idea, which covers the "low-downside/high-upside" nature of this trade, online right now. You can click here to read it.
Source: DailyWealth