My favorite idea for the last couple years has been U.S. housing…
The idea is simple. It's based on the fact that TWO once-in-a-lifetime things have come together. We're dealing with…
1. The biggest housing price crash in generations.
2. The lowest mortgage rates ever recorded.
[ad#Google Adsense 336×280-IA]This has made U.S. houses more affordable than ever.
It's been the perfect recipe for rising house prices.
But all of a sudden, those two things are changing…
We're seeing the first chinks in housing's armor.
House prices are up a lot.
And mortgage rates are up a lot. This means housing affordability ain't what it used to be…
House prices have soared this year… up to a nationwide median of $208,000 (for existing homes). That's up from $173,000 in February. (To be fair, home prices are typically weaker in the winter.)
Also – and possibly more importantly – mortgage rates have soared. They've climbed over a full percentage point – from below 3.4% in May to around 4.4% today.
These are two serious chinks in the great housing story.
Fortunately, I have some good news for you…
It is true that houses aren't nearly as affordable as they were even just a few months ago. However, you need to understand that house prices can still soar dramatically from here…
Outside of the bubble of 2006, the greatest boom in house prices was in the 1970s. House prices soared from roughly $20,000 to roughly $60,000 in that decade. Importantly, that boom started from the last great period of housing affordability.
So the good news today is, even with the recent dramatic fall in housing affordability, we have only fallen to the starting point in affordability in the 1970s.
The chart below shows what I mean: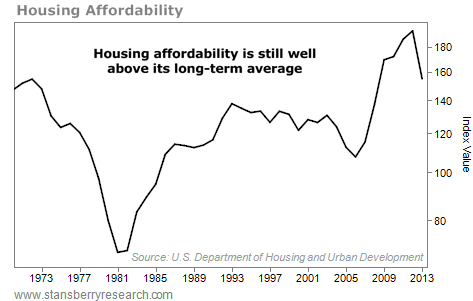 This chart is yearly housing affordability. Since 2013 hasn't ended yet, it is based on today's house price and mortgage rate.
I hope you took me up on my advice to buy property in the last few years. It was a once-in-a-lifetime opportunity.
Fortunately, the opportunity today is still great – even with higher home prices and higher mortgage rates.
Today, we are at the same level of affordability that we were when house prices soared roughly threefold in a decade (in the 1970s).
I'm not saying that we'll see a repeat of the 1970s… What I'm saying is this: Yes, house prices and mortgage rates are up. But even with those dramatic moves, housing is still affordable… And there's still plenty of upside potential left.
Take advantage of it… soon!
Good investing,
Steve
[ad#stansberry-ps]
Source: DailyWealth