Is this it? Was yesterday the start of the long-awaited correction in stock prices?
Yes. I think it was.
Stocks broke down hard yesterday, and the decline accelerated into the close. This is the first time in a while that the "buy on the dip" crowd didn't show up to rescue the market in the final hour. And this is likely an important change in character for the market…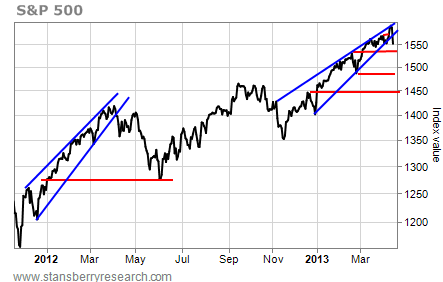 The S&P 500 broke below an important support level yesterday. The short-term trend has now shifted to "bearish." Given the plethora of warning signs we've pointed out over the past few weeks (here), I suspect the intermediate trend is now "bearish" as well. So the smart thing to do is map out a few reasonable downside targets for the stock market.
[ad#Google Adsense 336×280-IA]Take a look at this chart…
The S&P 500 broke down from a rising-wedge pattern – where the distances between the highs and lows grow closer together.
When a chart breaks this pattern to the downside, the resulting decline usually takes back 50%-100% of the height of the wedge.
Last year, for example, the wedge measured from about 1,220 at the bottom to 1,420 at the top – a height of 200 points.
When the S&P 500 broke to the downside of the pattern, the index fell as low as 1,275. That decline was about 70% of the height of the wedge, and it erased all the early gains of 2012.
Think about that for a moment… All the market's hard-earned gains in the first four months of 2012 disappeared when the chart broke the wedge to the downside.
The same thing happened in 2010 and 2011 as well. Take a look…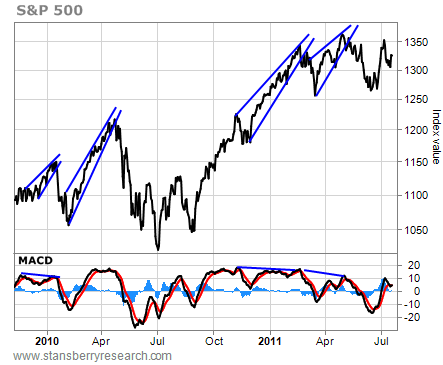 In each of the past three years, stocks gave up their early gains. By June each year, the S&P 500 was right back to where it started the year. If the same thing happens this time around, we could see the S&P 500 trade back down to 1,440 over the next several weeks.
It won't be a straight shot lower, though. There's support at 1,540 and then at 1,490. Both of those levels should produce a bounce in the index. But with the trend shifting from bullish to bearish, traders should use bounces to establish short positions.
The new downside target for the S&P 500 is 1,440. That's where I'll look to start buying stocks again.
Best regards and good trading,
Jeff Clark
[ad#stansberry-ps]
Source: The Growth Stock Wire