Shortly after the first hour of trading on Thursday, I turned off my computer and walked away.
I was about to allow my emotions to influence my trading.
So instead of doing something monumentally stupid, I shut everything down.
You see… I was frustrated.
[ad#Google Adsense 336×280-IA]So I was either going to throw in the towel, concede that stocks will move higher every day forever, and throw a bunch of money into the stocks that have been levitating all year… or I was going to take an overly aggressive stance on the short side, insist that the market had to go lower, and show everyone that I'm right and they're wrong.
Neither of those actions are based on logic.
Logic says two things right now…
1. Stocks are extended and ripe for a pullback. Even though this rally can continue higher, buying stocks right now is dangerous. There will be less risk after a pullback.
2. It's premature to get too aggressive on the short side. Despite all of the diverging indicators, price action remains positive.
So until we get a decline that takes out an important support level (previously 1,552, now around 1,570) and sticks, one or two short positions make sense. More than that is a gamble.
Traders battle their emotions every day. We're human, and it's natural. It is critical, though, to recognize when emotions are overriding logic and to prevent it from happening.
Stocks will pull back at some point. Maybe Friday's decline was the start. If the market breaks down through an important support level, ultimately, it will bounce back up and test it from below. That'll be the time to get aggressive with shorts.
That may be next week or next month. Who knows? But I'll be ready when it happens.
Until Thursday, Royal Gold (NASDAQ: RGLD) was the only gold stock that was still trading with a bullish point-and-figure chart. That kept the gold stock bullish percent index at 3.33.
With Royal Gold down on Friday, the gold stock bullish percent index has hit zero…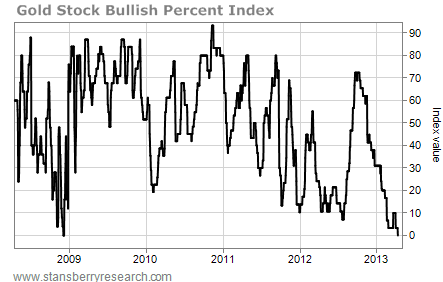 That only happened in October 2008 – in the midst of the financial crisis.
Gold stocks then rallied strong. The big gold stock fund (NYSE: GDX) doubled within the next two months, and it was up 200% by March 2009 – while the rest of the stock market got crushed.
I'm not saying it'll happen that way again. I don't think it will.
But there's no doubt the gold sector is violently oversold. And the broad stock market is ripe for a decline.
– Jeff Clark
[ad#stansberry-ps]
Source: The Growth Stock Wire