AN IMPORTANT CHART FOR GROCERY SHOPPERS
You may think a loaf of bread is expensive right now. But just wait… Wheat prices are on the verge of another major move.
[ad#Google Adsense 336×280-IA]After trading in a long sideways pattern for the better part of a year, wheat broke out to the upside in June and spiked 50% higher in about one month.
As today's chart shows, the higher prices have held… Wheat has been in a tight trading range since late July.
And it's gearing up for another important breakout.
If the price of wheat breaks out to the downside, we should see grocery prices in general come down a bit.
On the other hand, if wheat breaks out to the upside… well… let's just say cold cuts won't be the most expensive part of your sandwich.
– Jeff Clark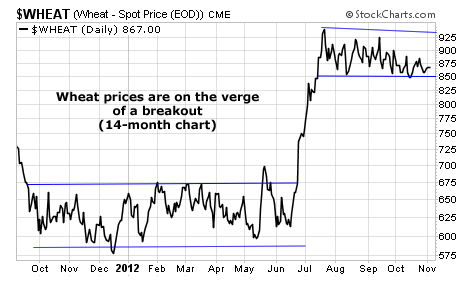 [ad#stansberry-ps]
Source: Market Notes