GOLD STOCKS ARE CHEAP AGAIN
There's no question: gold stocks are cheap.
Regular readers know gold stocks have been cheap relative to the price of gold for some time.
But now, gold stock valuations are back to the absurd levels they hit just a couple months ago – right before the sector rallied 20% in two weeks.
As the chart below shows, with the exception of the massive selloff during the financial panic in 2008, the sector is now cheaper – relative to the gold price – than it has been at any time since the gold bull market began more than a decade ago.
The chart is back down to where it was in May… And that's a good thing.
This "retest of the lows" on this chart gives investors another chance to start buying into the sector at decade-low valuations.
– Jeff Clark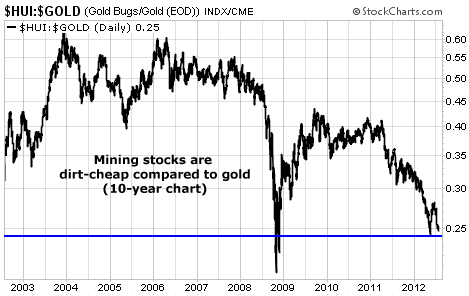 [ad#jack p.s.]
Source: Market Notes