"Real assets are the better bet," the "Bond King" says, as I reported in DailyWealth on Tuesday.
But what real assets should you own?
Typically, "real assets" means commodities and real estate.
But the Bond King, Bill Gross, has a portion of his money in a different kind of "real asset"…
Here's a photo of me with the Bond King from a couple years ago… taken at the end of a charity auction where he sold off millions of dollars' worth of his stamp collection.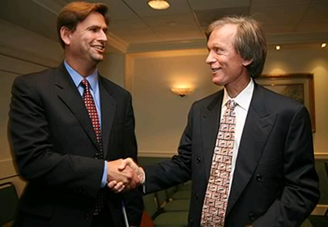 The auction went well… Bill bought low and sold high, raising millions for charity. With a grin, Bill told a Bloomberg reporter after the auction finished: "It's four times profit. It's better than the stock market."
[ad#Google Adsense 336×280-IA]Bill Gross is one of the world's greatest investors.
He's a multi-billionaire.
And he puts a portion of his money in collectibles.
I put some of my "real asset" money into collectibles, too – when I can find the right deal.
One somewhat obscure area I personally like right now is autographs from famous musicians.
Years ago, I bought a set of autographs of The Beatles – with a specific guarantee from Fraser's Autographs. Fraser's is the autograph arm of Stanley Gibbons, which has been a major player in stamp-collecting for more than 100 years.
Paul Fraser (the former Chairman and CEO of Stanley Gibbons) now runs Paul Fraser Collectibles. I spoke with Paul last week. He told me he recently sold an early Beatles contract from back "when George Harrison was only 17 and his father needed to sign!" for about $450,000.
Paul has been dealing in collectibles for nearly 40 years. It started for him with a record store in the mid-1970s… Paul hung a signed Beatles album on the store's wall "at a price that I thought no one would pay – 45 British pounds," and it sold quickly. "I continued to hang things on the wall pricing them at prices that I thought they wouldn't sell for – and they kept selling."
Today, a signed Beatles album cover can fetch $50,000. Just two weeks ago, The Beatles' first album – not signed by anyone – sold on eBay for $14,999. It was the album "Introducing… The Beatles."
It's not just the Beatles… They're just one example of the potential of high-end autographs.
I personally consider legitimate Beatles autographs a "real asset." I believe we'll hear much more about high-end collectibles as an investment class, as people try to get money outside of currencies and into "real assets."
However, buying "collectibles" like Beatles autographs is fraught with risk… One major problem is fakes… Are the signatures authentic?
Paul has told me in the past that he believes the majority of autographs sold on eBay are fakes. There are two major ways to avoid fakes. The first is to buy autographs from reputable dealers with decades of experience and hundreds of thousands of items guaranteed and sold (like Paul Fraser Collectibles and Stanley Gibbons). The second way is to buy items authenticated by a major name in authentication, like PSA/DNA (www.psacard.com).
Right now, Paul offers a great deal on "investment grade" autographs and collectibles – a 20% guaranteed gain:
When you purchase an investment grade collectible from Paul Fraser Collectibles, it can be returned five years from the purchase date, for a full credit on any future stock item on the Paul Fraser Collectibles website, to the value of 120% of the original purchase price. This is equivalent to 4% interest annually.
(Visit www.PaulFraserCollectibles.com and click on "120% Guarantee" for the full details.)
My point is, high-end collectibles (like Beatles autographs) are overlooked as a potential "investment" these days. They're thought of as a bit of a joke. Meanwhile, the returns so far have been no joke.
The old saying about gold is "you can print more dollars, but you can't print more gold." Well, you can't print more (legitimate) Beatles autographs either. The supply is limited. (Also, I enjoy looking at the Beatles on my wall more than I enjoy looking at gold.)
It takes time to learn what prices are "right" and how to not get burned. But I think it's worth the effort. If you buy from reputable dealers and get guarantees on your investment, it's a low-risk, high-reward idea… and it provides some diversification from gold, commodities, and real estate.
If you're looking to make "real asset" investments like Bill Gross is, check 'em out.
Good investing,
Steve
[ad#jack p.s.]
Source: DailyWealth