It has been one month since we last looked at gold and wondered if we would get a chance to buy it on sale in July.
So far, that pullback hasn't happened. In fact, gold is a few bucks more expensive than it was back then. It's hardly trading at the bargain-basement levels I was hoping we'd see by now.
But there's still hope. Gold is trading in a consolidating-triangle pattern. And one way or another, it's setting up to make a major move…
For the past couple months, the yellow metal has been stuck in a trading range between about $1,550 and $1,625. But that range has been tightening, and gold has been storing up energy for another big move. That move could happen as early as next week.
Take a look at this chart of gold…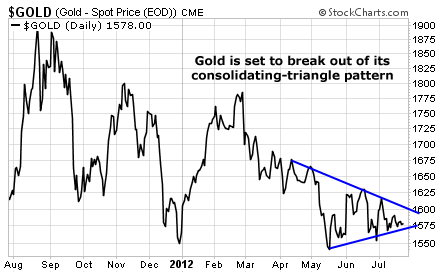 Gold is approaching the apex of its triangle pattern. That's the breaking point – where the metal either breaks out to the upside of the pattern or breaks down. Either way, there's the potential for a $140 move in either direction. And based on the chart, it could happen in the next couple weeks.
[ad#Google Adsense 336×280-IA]Frankly, I'd love to see the metal break down here and give us a chance to buy it near $1,450 per ounce or lower.
But I'm starting to doubt we'll get that lucky.
With all the recent talk about a global recession, deflationary pressures, and Bernanke's testimony to Congress last week that he does not want a third round of quantitative easing… gold has had plenty of reasons to drop in price.
But it's been holding steady above the $1,550 support zone.
Maybe we won't get a chance to buy it at as huge a discount as I'd hoped.
There is a big move coming, though, and here's how I plan to trade it…
If gold breaks out to the downside of the triangle and loses support at $1,550, I'll look to buy the metal somewhere around $1,450 or lower. That will be the best gold-buying opportunity we've seen in years.
On the other hand, if gold breaks out to the upside and rallies above last month's high of $1,625, forget about buying it on sale. Just buy it. Gold will have entered "rally mode," and will likely challenge its February high above $1,775.
Either way this plays out, there's big opportunity ahead in gold.
Best regards and good trading,
Jeff Clark
[ad#jack p.s.]
Source: The Growth Stock Wire