This is one of those situations that sounds too good to be true… but it ACTUALLY IS TRUE…
513,055%…
That number is not a misprint…
Warren Buffett has increased the net worth of his company, Berkshire Hathaway, 513,055% from 1964 (the year he took over) through 2011.
[ad#Google Adsense 336×280-IA]That record will likely never be repeated. Buffett is certainly the greatest investor – ever.
With a track record like that, you would think investors would pay dearly to have their money with him.
But that is not the case.
Right now, you can invest with Buffett at a 23% discount.
Let me explain…
Buffett's stock, Berkshire Hathaway, is about as good a value as it gets for investors, as measured by price-to-book value. ("Book value" is a rough measure of liquidation value. And it's Buffett's favorite metric to size up his performance.)
Despite Berkshire's fantastic value, there is still a way that you can buy it at a 23% discount. It's true… You can buy a pile of Berkshire Hathaway stock for just 77 cents on the dollar.
It is an incredible deal. And it's simple… You just buy shares of the Boulder Total Return Fund (BTF). That's it.
I introduced this story to DailyWealth readers in January.
In short, the Boulder Total Return Fund is trading at a dramatic discount to its "net asset" value (or NAV) – about as extreme as its discount gets.
You can buy it for 77 cents on the dollar today. If Boulder simply liquidates its shares of Berkshire Hathaway (and its other holdings), that's an instant 30% profit for shareholders that buy into the fund at today's price. (Why a 30% gain? Because a $0.23 gain on a $0.77 purchase price is a 30% profit.)
In the past, buying this fund at extreme discounts to net asset value has paid off. Take a look…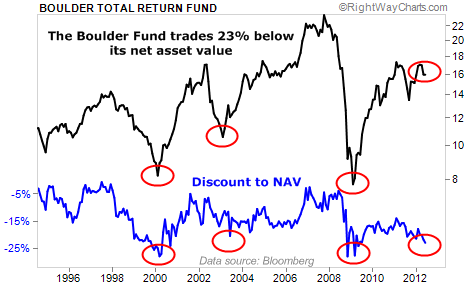 Now, I can't guarantee that the fund's share price will soar this time around… But what I do know is you're able to buy already-cheap Buffett stock at a much cheaper price…
You see, 38% of the Boulder Total Return Fund is in Berkshire Hathaway stock. The price of Berkshire is the biggest factor – by far – affecting the fund's net asset value on a day-to-day basis.
Other names in Boulder's top five holdings include Wal-Mart, Yum Brands (which owns Pizza Hut, KFC, and Taco Bell), and Johnson & Johnson. All of these are strong brand names, of course, and strong stocks, too. They're all trading near 52-week highs – but they're still reasonably priced.
I could go on… but I think you get the picture…
Now is a fantastic time to invest in Warren Buffett's stock. It's as good a value as it ever gets…
And you can buy in today at 77 cents on the dollar by buying shares of the Boulder Total Return Fund – which is a ridiculous value right now.
The Boulder Total Return Fund (BTF) is a "double-value" way to invest alongside the world's best investor… take advantage of it…
Good investing,
Steve
[ad#jack p.s.]
Source: Daily Wealth