MY TRADING SCRIPT FOR 2012
This year is turning out to be quite similar to last year.
Stocks started off 2011 with a relentless, one-way rally during the first quarter.
But a brutal decline in May and June took away all those gains.
It has been the same story so far in 2012 – a big first quarter rally followed by a hard decline.
[ad#Google Adsense 336×280-IA]Since last year's script has proven to be such a good guide, we might benefit by looking at what happened following last year's early summer decline…
The blue boxes in the chart below show the May peak and subsequent decline into June for both 2011 and 2012.
The red arrow points to the fast, 6% rally we got off the bottom late last June and into July.
Watch out for a fall in late July and early August.
But for now, it looks like bullish investors may see a strong rally over the next couple weeks…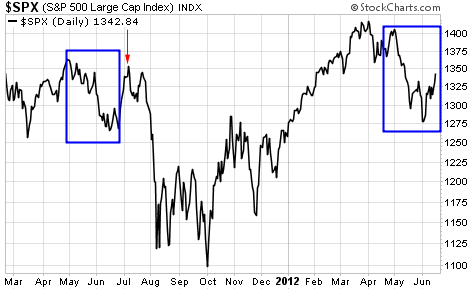 – Jeff Clark
[ad#jack p.s.]
Source: Brian Hunt's Market Notes