There's no question: gold stocks are cheap.
Many of the sector's stocks trade with lower earnings multiples than the S&P 500. Earnings growth is in double digits. Many pay dividends close to 2%.
And with the exception of the massive selloff in October 2008, the sector is now cheaper – relative to the price of gold itself – than it has been at any time since the gold bull market began 11 years ago…
Just look at this chart that compares the Gold Bugs Index (the HUI) to the price of gold…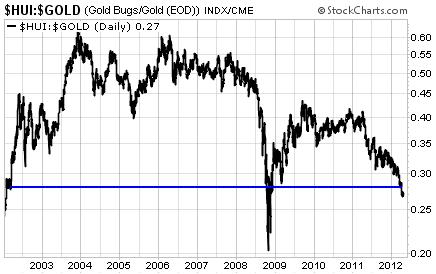 [ad#Google Adsense 336×280-IA]Fundamentally speaking, the sector is a screaming buy.
The problem has been technical.
The chart patterns stink.
But yesterday may have been an "exhaustion" day.
For the past four months, I've been waiting for gold stocks to retest their late December lows – or undercut those lows a bit – to create a buying opportunity.
We got that yesterday… and it happened with positive divergence on the MACD momentum indicator.
That's a good sign in favor of a longer-term trend change. And last Friday, we got a buy signal on the gold sector bullish percent index (BPGDM).
So the ingredients are all there for a bullish move in the sector. We have dirt-cheap fundamentals. And we now have potentially bullish technical developments. On top of all that, investor sentiment (a contrary indicator) toward gold stocks is as bearish as I've seen it in a decade.
I can't help thinking that five or six months from now we'll look back and say, "I can't believe we had the chance to buy those stocks so cheap." The problem is how things might look in five or six days.
The broad market is in a short-term downtrend that has trimmed about 5% off the S&P 500 this month. In fact, we're rapidly approaching the 1,345 support level I wrote about last week. If the market can't hold there and stocks get clubbed even lower, gold stocks will likely suffer more as well.
The long- and intermediate-term setups look good for gold stocks. The short-term trend could stay rough for a few more days. The best way to trade it right now is to take a few nibbles on some of the larger gold names – the more established miners with solid earnings history and good dividends. Be willing to accept a little downside action in the short term.
Then, after stocks bounce and come back to form a higher low, you can get more aggressive and buy into some mid-tier producers and exploration companies.
Who knows. Maybe yesterday will turn out to be the bottom for the gold sector. Or maybe that bottom will come in a few days or even a couple weeks. Either way, I expect the sector will end up much higher a few months down the road.
Best regards and good trading,
Jeff Clark
Note from Daily Trade Alert: Jeff's not the only analyst we follow recommending gold stocks right now. Wall Street Daily's Karim Rahemtulla is too (see this alert from last week). If you'd like to invest in gold mining stocks, an easy way to get instant exposure to a basket of the largest players is to simply buy the Market Vectors Gold Miners ETF (AMEX: GDX). Just keep in mind these shares can be extremely volatile.
[ad#jack p.s.]
Source: The Growth Stock Wire