To me, the Boulder Total Return Fund (BTF) is one of the biggest anomalies in the stock market…
You could make a 27% return in this fund – in one day – if the fund liquidated itself. And the fund, as I'll show, has every reason to consider that option. It is an interesting story…
As I write, the Boulder Total Return Fund trades at a 21.3% discount to the value of the shares of the companies it holds.
[ad#Google Adsense 336×280-IA]Said another way, it sells for 79 cents on the dollar. So if the fund simply sold the stock it owns today at market value and distributed that cash, you'd collect a 27% profit.
The fund has a fantastic portfolio… including a massive stake in Berkshire Hathaway, which is run by Warren Buffett – one of the world's greatest investors. Based on the fund's most recent report of holdings, shares of Berkshire make up 38.4% of the fund.
This huge stake in Berkshire is no accident, and it isn't likely to shrink. You see, the man behind this fund is Stewart Horejsi – a huge Warren Buffett fan. Horejsi bought his first 40 shares of Buffet's company back in 1980, and he's steadily accumulated shares since. He is now a very rich man. "We might be the 10th largest [investor in Berkshire today], or something like that," he said in an interview in 2008.
Other top holdings in the Boulder Total Return Fund include some of the world's best businesses that are currently selling at fantastic prices. These include Wal-Mart, Johnson & Johnson, Hong Kong conglomerate Cheung Kong, and Freeport-McMoRan. These companies are selling at an average of just 10 times earnings.
In short, if you buy the Boulder Total Return Fund, you're buying many of the world's best businesses… at a 20%-plus discount to their market value.
In the past, buying this fund at extreme discounts to liquidation value (officially called "net asset value," or NAV) has paid off. Take a look: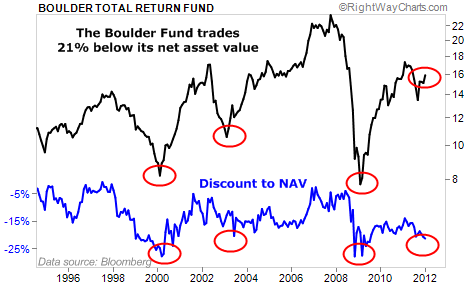 You would think Horejsi would want to do something about the massive discount. He has a big incentive to see it disappear. He personally owns more than 42% of the fund. So he would be the biggest beneficiary, by far, of that action.
A typical technique to narrow this kind of discount is for a fund to start buying back its shares. At least according to its latest semi-annual report, the Boulder Total Return Fund isn't doing this.
Another possibility is Horejsi could liquidate the fund and distribute the proceeds. That would be an instant 27% gain from current prices for him. (Of course, he'd give up the management fees from running the fund.)
I don't know what the thinking is at the fund. Regardless, the Boulder Total Return Fund is worth considering at its current discount.
At the end of the day, you own shares of the world's best businesses – at a 20% discount to their actual stock market prices. Check out the Boulder Total Return Fund today.
Good investing,
Steve
Further Reading: Two of this fund's holdings — Wal-Mart and Johnson & Johnson — are considered the best companies in the world. Both are the leaders of their industries… and both pay consistently increasing dividends. And as Brian Hunt recently pointed out, investors are growing more and more interested in collecting dividends from these large, super-safe companies.
[ad#jack p.s.]
Source: Daily Wealth