The "golden cross" has only happened 26 times in the past five decades. But the talking heads on CNBC must have mentioned it 100 times yesterday morning.
The golden cross occurs when the S&P 500's 50-day moving average (DMA) crosses above the 200-DMA. This is widely viewed as a bullish indicator, leading to above average gains in stock prices in the months ahead.
Of the 26 times we've seen the golden cross, stocks were higher six months later 21 times. The S&P 500 gained an average of about 5% each time. So there's a good argument to support the bullish case.
Take a look at how stocks performed following the two most recent golden crosses in the past three years…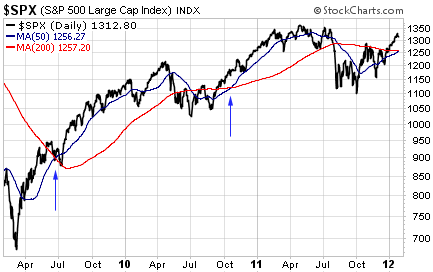 Stocks gained more than 20% in the six months following the 2009 golden cross. And they gained 12% after the 50-DMA crossed above the 200-DMA in October 2010.
[ad#Google Adsense 336×280-IA]This indicator has a great track record. If we get a golden cross later this week (it looks like we will), the odds are good we'll see higher stock prices in the coming months.
It's just the next few weeks I'm worried about.
Technical indicators are valuable tools for helping traders determine the future direction of stock prices. But the tools become less useful when too many people follow them. It's the market's "discounting" mechanism at work.
A few months ago, I mentioned the ominous "death cross" on the silver chart. The death cross occurs when the 50-DMA crosses below the 200-DMA. It's the opposite of a golden cross. It's a bearish sign… and it often leads to lower prices.
Back then, nobody was talking about silver's death cross. So it seemed likely that it would work out.
Silver fell 25% within a few weeks.
Today, it seems everybody is talking about the potential for a golden cross on the S&P 500. Everybody on CNBC is certainly talking it up. So maybe this time it won't work out as well as predicted… At least, not right away.
The stock market has a nasty habit of NOT doing what everybody expects it to. With everybody looking for a golden cross and for stocks to make a bullish move higher, be on guard for a move in the other direction.
Best regards and good trading,
Jeff Clark
[ad#jack p.s.]
Source: The Growth Stock Wire