Allison Transmission Holdings (ALSN) , a Zacks Rank #1 (Strong Buy), is witnessing bullish tailwinds including a set of strategic buyouts and new product launches that bode well for the automotive parts company. The stock is breaking out to the upside and hit an all-time high earlier this year. Only stocks that are in extremely powerful uptrends are able to make new highs amid an uncertain economic environment. Shares continue to display relative strength as buying pressure accumulates in this market leader.
ALSN sports the highest Zacks Value Style Score of 'A', indicating further upside based on favorable valuation metrics. The company is part of the Zacks Automotive – Original Equipment industry group, which ranks in the top 45% out of more than 250 Zacks Ranked Industries. Note the promising characteristics for this industry below: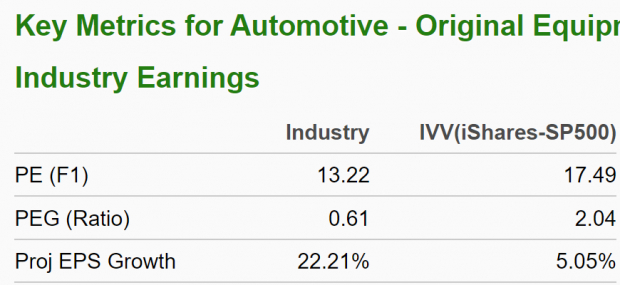 Image Source: Zacks Investment Research
Historical research studies suggest that approximately half of a stock's price appreciation is due to its industry grouping. In fact, the top 50% of Zacks Ranked Industries outperforms the bottom 50% by a factor of more than 2 to 1. It's no secret that investing in stocks that are part of leading industry groups can give us a leg up relative to the market. By focusing on leading stocks within the top 50% of Zacks Ranked Industries, we can dramatically improve our stock-picking success.
Company Description
Allison Transmission Holdings designs, manufactures, and sells commercial and defense automatic transmissions for medium-duty and heavy-duty vehicles. The company offers transmissions for various applications including distribution, construction, fire, and emergency on-highway trucks; school and transit buses; energy and mining off-highway vehicles; and wheeled and tracked defense vehicles.
ALSN provides transmissions and electric propulsion solutions under the Allison Transmission brand name, as well as remanufactured transmissions under the ReTran brand name. In addition, the company sells branded replacement parts, support equipment, engineering services, and defense kits. ALSN markets its products to original equipment manufacturers, distributors, and the U.S. government through approximately 1,600 independent distributor and dealer locations.
Strategic buyouts such as Walker Die Casting, C&R Tool & Engineering, and Vantage Power are set to boost company prospects. New product launches in China such as the FracTran – a next-generation hydraulic fracturing transmission product – will help buoy sales in the coming quarters.
Earnings Trends and Future Estimates
ALSN has built up an impressive earnings history, surpassing earnings estimates in three of the last four quarters. Back in April, the company reported first-quarter earnings of $1.85/share, a 21.71% surprise over the $1.52 consensus estimate. ALSN has delivered a trailing four-quarter average earnings surprise of 12.84%.
The ALSN growth engine is expected to remain hot this year, as analysts covering the automotive parts company have increased their EPS estimates across the board. Full-year estimates have been raised by +9.8% in the past 60 days. The 2023 Zacks Consensus EPS Estimate now stands at $6.61/share, reflecting potential growth of 19.53% relative to the same quarter in the prior year.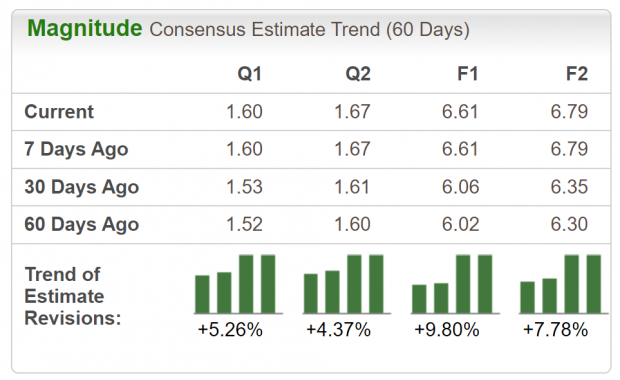 Image Source: Zacks Investment Research
Let's Get Technical
ALSN shares have advanced nearly 30% in the past year. This is the kind of stock we want to include in our portfolio – one that is trending well and receiving positive earnings estimate revisions.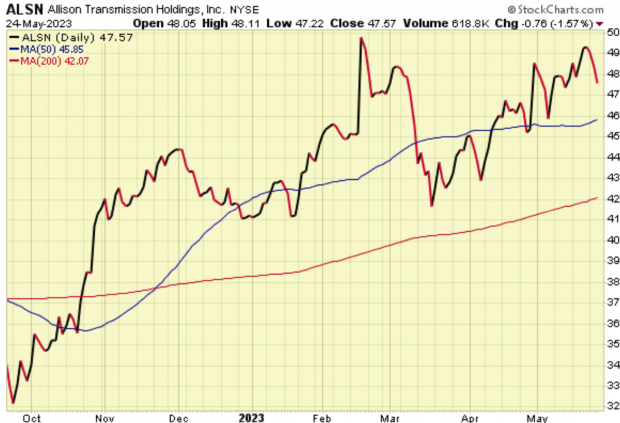 Image Source: StockCharts
Notice how both the 50-day (blue line) and 200-day (red line) moving averages are sloping up. The stock has been making a series of higher highs. With both strong fundamentals and technicals, ALSN is poised to continue its outperformance.
Empirical research shows a strong correlation between near-term stock movements and trends in earnings estimate revisions. As we know, Allison Transmission Holdings has recently witnessed positive revisions. As long as this trend remains intact (and ALSN continues to deliver earnings beats), the stock will likely continue its bullish run this year. Despite the impressive performance, ALSN currently trades relatively undervalued at just a 7.31 forward P/E.
Bottom Line
Solid institutional buying should continue to provide a tailwind for the stock price. ALSN is ranked favorably by our Zacks Style Score Categories, with an 'A' for Value and 'B' for Growth, paving the way for an overall 'A' VGM score. Increasing volume at recent breakout levels is another bullish sign.
Robust fundamentals combined with a strong technical trend certainly justify adding shares to the mix. Backed by a leading industry group and robust history of earnings beats, it's not difficult to see why this company is a compelling investment. Investors would be wise to consider ALSN as a portfolio candidate if they haven't already done so.
— Bryan Hayes
Source: Zacks