Today, I want to tell you about a high-quality dividend growth stock that is down significantly from its recent highs…
American Tower (AMT). is an infrastructure real estate investment trust with a market cap of $96 billion.
Real estate isn't limited to shopping malls and housing. No. Real estate comprises all kinds of physical structures. American Tower proves how differentiated real estate can be, as the REIT owns and operates communications towers. These towers are where a variety of equipment is installed – equipment that's necessary to carry out services such as telephony, mobile data, radio, and broadcast television.
With mobile data more important than ever, and with self-driving cars still in their infancy, the towers, and the equipment on them, are only becoming increasingly necessary to everyday life. That's what sets up American Tower for a long, long runway for continued profit and dividend growth.
The tower REIT has increased its dividend for 13 consecutive years.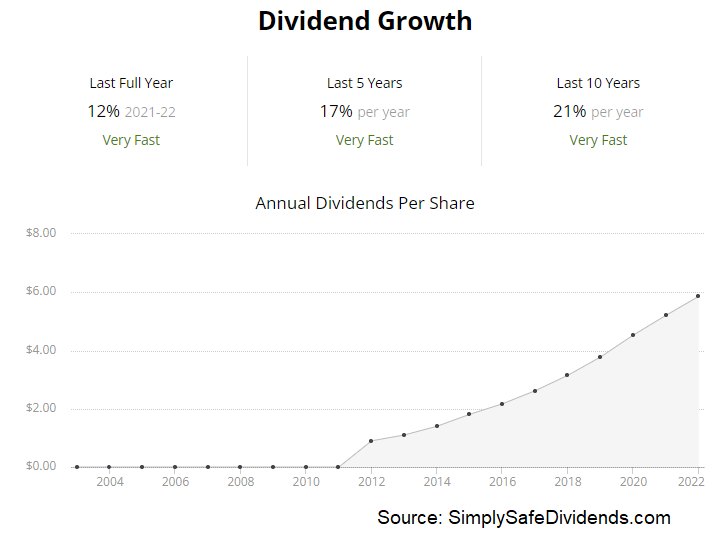 And what a blistering start American Tower is off to, as evidenced by the 10-year DGR of 20.3%. Now, that is very high for a REIT. REITs typically offer high yields and low growth rates, but American Tower flips the script here. Of course, that does mean that you have to sacrifice some yield. But I don't think the sacrifice is really all that great. After all, the stock yields 3% here.
That's a very respectable yield, especially when it's paired with such a high dividend growth rate. And the payout ratio is just 64.9%, based on midpoint guidance for FY 2023 AFFO/share. That gives me a lot of confidence in the sustainability of the dividend, as well as the growth potential of it.
This stock's 27% decent from its 52-week high has created what looks like a very appealing valuation.
The stock's 52-week high is $282.47. Its current pricing is right about $207. So we're talking about a near $100/share drop here. If you bought at the high, that's unfortunate. But for those who are looking to get in now, I think the long-term setup is pretty favorable.
We recently covered American Tower in a full analysis and valuation video, estimating fair value for the REIT at $224.19/share. In my view, the stock was simply too expensive at almost $300. But down here around the $200 level? It's much more buyable. Take a look at it.
— Jason Fieber
P.S. If you'd like access to my entire six-figure dividend growth stock portfolio, as well as stock trades I make with my own money, I've made all of that available exclusively through Patreon.