The cannabis industry is building up as legalization in the US becomes more widespread. While laws vary from state to state, we're clearly on a path to full federal legalization at some point in the near future. And that path is lined with green money.
I've heard from time to time that dividend growth stocks are yesterday's news. That any company paying growing dividends is mature and focused on old industries.
Well, that's just not true.
Many high-quality dividend growth stocks are focused on supplying tomorrow's demand. Otherwise, they wouldn't be able to pay those growing dividends. I can point to Fintech, AI, and 5G as examples of where you can invest and collect safe, growing dividends. And the cannabis industry is yet another example.
There are a number of high-quality dividend growth stocks that are directly exposed to cannabis. While things are a little bumpy right now, the long-term future looks very bright and profitable. That means lots of money to be made. And lots of big, safe, growing dividends to collect.
Today, I want to tell you about three high-quality dividend growth stocks set to benefit and profit from cannabis.
Better yet, each of these three stocks offer a unique one-two punch. They already have great business models. And they've combined those business models with cannabis to supercharge future growth.
Ready to explore these three dividend growth stocks?
Let's dig in.
Dividend Growth Cannabis Stock #1: Altria Group (MO)
The first stock I want to tell you about is Altria Group (MO). Altria is known as a tobacco giant. What's less known is that it's directly exposed to cannabis.
That's because Altria owns 45% of Cronos Group (CRON), a Canadian-based cannabis company. Tobacco and cannabis. Seems like a marriage made in heaven. Altria is set to benefit from the burgeoning cannabis industry. But here's the thing.
Altria has been a great long-term investment without cannabis. And regardless of the success of its Cronos ownership stake, it'll almost certainly continue to be a great long-term investment. It's just that the cannabis exposure is like a cherry on top of a beautiful sundae.
That sundae is so beautiful largely because of the 51 consecutive years that Altria has increased its dividend.
Altria built up that long-term track record long before the thought of a legal cannabis industry in the US ever existed. But if cannabis can give them a nice boost from here, all the better. With tobacco usage in secular decline and regulatory risks as high as ever, cannabis can potentially breathe new life and growth into the business.
Meanwhile, this stock can give your passive dividend income a big boost, via the 6.6% yield it offers.
On top of that yield is growth, as Altria's five-year dividend growth rate is 9.7%. And even though the stock is up 20% YTD, the P/CF ratio of 10.9 is well below its three-year average of 13.9. If you want a high-quality dividend growth stock with a big, growing dividend that could become even bigger and growthier through its cannabis exposure, Altria should definitely be on your list.
Dividend Growth Cannabis Stock #2: Constellation Brands (STZ)
Second up, let's discuss Constellation Brands (STZ). Constellation is one of the largest beer companies in the world, with over 100 brands under its umbrella.
They don't do only beer, though. They also have wine and spirits. More importantly and more to the point of today's article, they also have cannabis exposure. That's due to their near-39% ownership stake in Canopy Growth (CGC) – another Canadian cannabis company.
The beer business is a great business, and this company is set to become even greater with their cannabis exposure.
What's really interesting about this play is that Constellation can benefit in more ways than one. They can benefit from broadening legality and more cannabis sales, sure. But they can also creatively benefit by virtue of new beverages infused with cannabis, giving them a nice one-two punch.
That should help them to hand out bigger dividends for years to come.
Constellation has already increased its dividend for six consecutive years. However, some of the recent dividend increases have been pretty small. We're talking less than 1%. And with the stock yielding only 1.3%, it'd be nice to see a much higher growth rate.
Well, this business could be off to the races as we move past the pandemic, beverage sales take off, and the cannabis industry continues its momentum.
The stock doesn't look super cheap, with a P/E ratio of 26. But consider this. It's been a phenomenal long-term investment. The stock is up almost 1,000% over the last 10 years. And that was mostly before the cannabis investment. Think of what they could do after. If you'd like a cannabis investment, or even if you just want a major foothold in the beer industry, Constellation should be strongly considered.
Dividend Growth Cannabis Stock #3: Innovative Industrial Properties (IIPR)
Last but not least, I want to tell you about Innovative Industrial Properties (IIPR). Innovative Industrial Properties is a real estate investment trust that owns and manages medical-use cannabis facilities.
Real estate has long been a way to make a lot of money. Cannabis has long been a, well, less legal way to make money. This company combines those two industries into one business model.
This company went public in late 2016. It's still a young pup with plenty of exciting potential ahead.
Meanwhile, because of its status as a REIT, large, growing dividends are par for the course. They've wasted no time on this front. The company has increased its dividend for five consecutive years already, and they could be just getting started.
The stock yields 2.9% right now, and the three-year dividend growth rate is 141.6%! If you think cannabis has a bright future, then this company almost can't help but do extremely well. This stock has compounded at an annual rate of 82% over the last three years. Wow.
This thing is up more than 150% over the last year. I get it. It's tough to buy a stock after it's already gone on a huge run. And with a P/CF ratio of 32.6, it's not an obvious bargain. But again, this business could be just getting started. Getting that one-two punch of cannabis and real estate through IIPR is a very, very compelling way to play this new industry.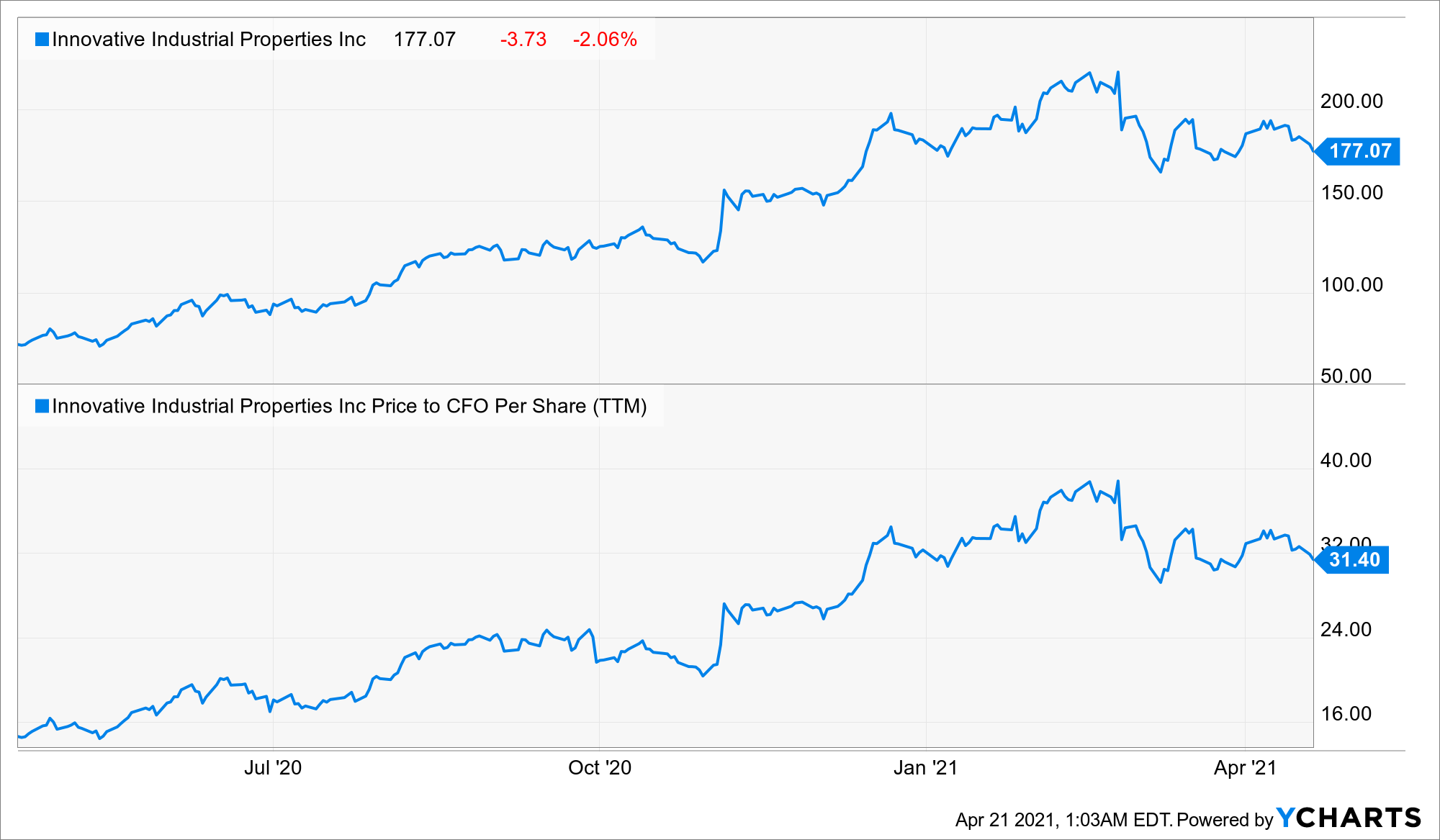 — Jason Fieber
P.S. If you'd like access to my entire six-figure dividend growth stock portfolio, as well as stock trades I make with my own money, I've made all of that available exclusively through Patreon.
Better Than Dividend Stocks?
[sponsor]
The best way to earn monthly income is NOT a stock, bond or option... Rather, it's this little-known alternative investment.
CLICK HERE TO FIND OUT MORE.
Source: DividendsAndIncome.com