Living off of dividends does sound like a dream. That's because it is.
I started living off of dividends five years ago. And I've got to say it's been better than I ever thought it would be.
Before I retired in my early 30s, I used to work more than 50 hours per week at my car dealership day job in order to get a paycheck. Now I get paid just for waking up.
Nice, right?
Well, it's actually better than it sounds because of dividend increases. See, I invest in and make videos on high-quality dividend growth stocks. These stocks represent equity in world-class businesses. Businesses that are regularly increasing their profit, which allows them to regularly increase their dividends to shareholders.
Passive income is great. But it's not that great if it isn't growing, because inflation will slowly eat away at it.
You want to invest in stocks that are not just paying dividends but increasing their dividends faster than inflation. That way, you can keep up with, and even exceed, the rising costs of life.
I'm now going to tell you about three high-quality dividend growth stocks that just increased their dividends.
Let's dig in.
Dividend Increase #1: Realty Income (O)
The first dividend increase I want to bring to your attention comes from Realty Income (O). Realty Income just handed out a dividend increase of 0.2%. I know. I know. That's almost nothing. But hear me out. This isn't as bad as it looks.
That's because Realty Income increases their dividend every quarter, often with smaller dividend increases coming in every single month. Realty Income has increased its dividend for more than 90 consecutive quarters. That's awesome.
This REIT has been magnificent for investors since its 1994 IPO. It's built up a portfolio of thousands of properties, delivered double-digit annual total returns, and increased its dividend for 28 consecutive years. Those quarterly dividend increases add up – the 10-year dividend growth rate is 4.9%.
And all of this comes along with a 4.5% yield. And the dividend is paid monthly.
If there were a hall of fame for dividend growth stocks, Realty Income would be in it. We recently put out a video highlighting this stock as an attractive idea right now.
Dividend Increase #2: Williams-Sonoma (WSM)
The next dividend increase you should know about is from Williams-Sonoma (WSM).
Williams-Sonoma just gave their shareholders a nice "pay raise" via their 11.3% dividend increase.
What did shareholders have to do in order to get this pay raise? Nothing. Just own stock. That's the easiest pay raise you'll ever get in your life. This marks the 16th consecutive year of dividend increases for Williams-Sonoma.
This home furnishings business is one of the best retailers in the world. And with stimulus checks flowing like wine, business is likely to get a big boost this year.
I think this stock will eventually become a Dividend Aristocrat. This company's profit and dividend are both headed higher. That's why I noted the stock's attractiveness back in October around $100/share. This is a long-term winner.
Dividend Increase #3: Dollar General (DG)
And last, but certainly not least, we have the dividend increase from Dollar General (DG). Dollar General just increased their dividend by a whopping 16.7%.
This discount retailer isn't trying to sneak by any discounts to their shareholders. They're handsomely rewarding their investors here with a very nice dividend raise. They've now increased their dividend for seven consecutive years.
The only problem with the dividend? The stock only yields 0.9% right now. If you want a high yield, you'll have to accept lower growth. This stock is a long-term compounder. That long-term compounding allows you to exponentially grow your wealth and passive dividend income over time.
The yield starts off low. But huge dividend increases compounding on top of each other add up in a hurry. If you're not already at retirement age, don't let low yields dissuade you from investing into high-quality dividend growth stocks that'll turn your long-term wealth and passive income into eye-boggling numbers.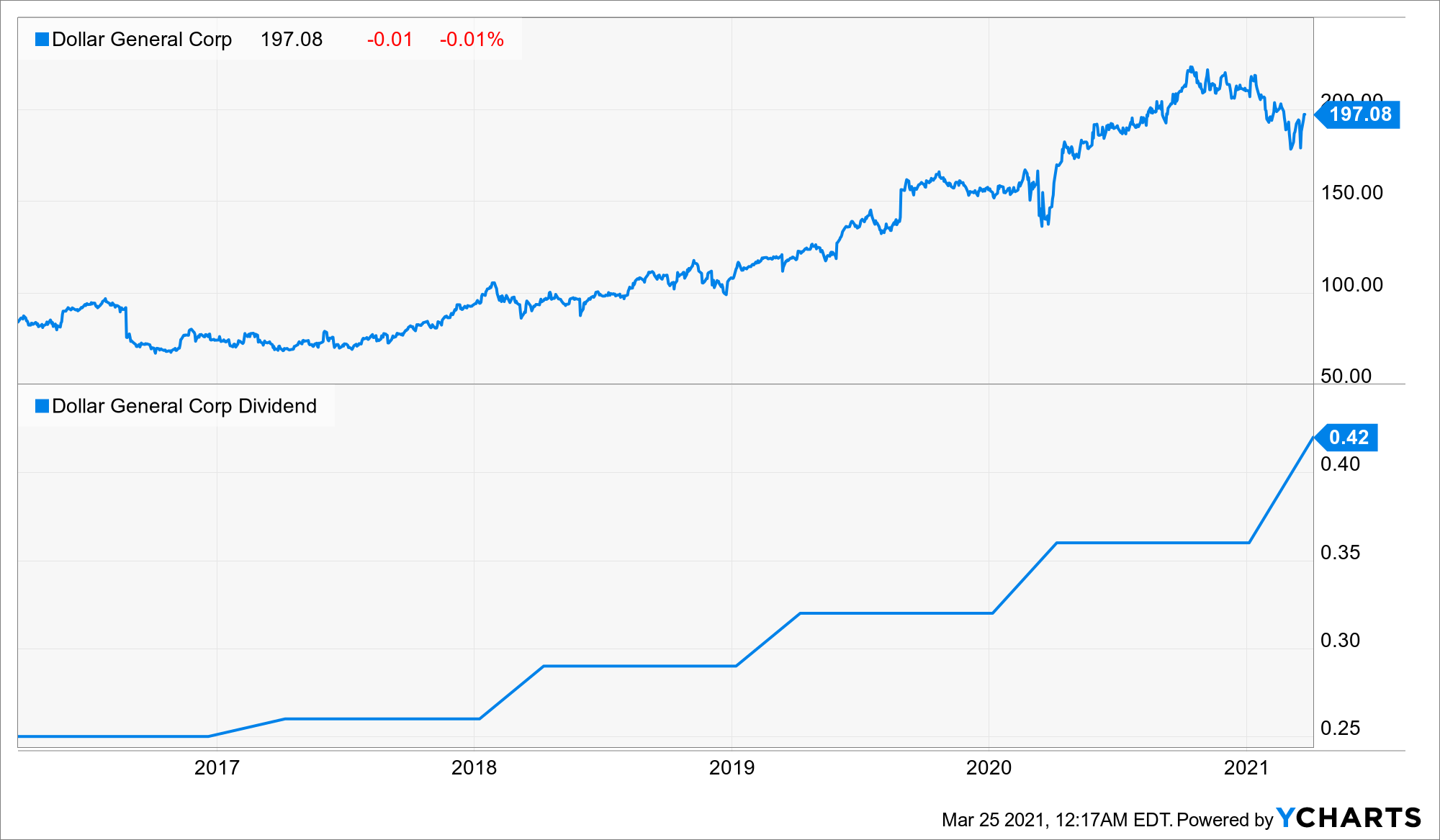 — Jason Fieber
P.S. If you'd like access to my entire six-figure dividend growth stock portfolio, as well as stock trades I make with my own money, I've made all of that available exclusively through Patreon.
Source: DividendsAndIncome.com