I've been a dividend growth investor for more than a decade. What's dividend growth investing all about? Well, it's a strategy that advocates buying and holding shares in world-class enterprises that pay reliable, rising cash dividends.
This is highly intuitive when you think about it.
Why invest in a company that isn't profitable? And why invest in a company that doesn't share profit with the owners? This strategy is basically a custom fit for financial independence and even early retirement.
If you want to achieve financial independence, you need a sustainable source of growing passive income. Investments that don't offer income? Forget about it.
The last thing you'd want to do is work for many years, build up a war chest of assets, and then have to sell off those assets to cover your bills. You run the risk of running out of money. It's much better to have a gaggle of golden geese laying ever-more golden eggs. Live off of the growing pile of golden eggs. Don't slaughter the golden geese that sustain you. Leave those geese to get fatter and happier over time, and they'll continue to lay more and more eggs.
High-quality dividend growth stocks are those golden geese. And dividends are those golden eggs. I'd know. I retired in my early 30s and started living off of dividend income.
Here I am, years after quitting my day job, and my dividend income continues to increase every single month. That's because I'm invested in the same type of high-quality dividend growth stocks that we're regularly featuring here on the channel.
Dividend increases make financial independence easier and better. Things get more expensive over time due to inflation. But dividend increases from high-quality companies often come in even higher than inflation. I now want to tell you about three stocks that are now laying more golden eggs, because they just increased their dividends.
Let's dig in.
Dividend Increase #1: American Tower Corp (AMT)
The first dividend increase I want to tell you about came from American Tower Corp (AMT).
American Tower just increased their dividend by 2.5%.
Only 2.5%? That might seem like a bummer in comparison to their five-year dividend growth rate of 19.1%. But here's a little secret.
American Tower tends to increase their dividend every quarter. Gotta love it. That means this dividend increase is likely just the start of a few more to come this year. The company has now increased its dividend for 12 consecutive years. And with their towers being critical to the rollout and function of 5G, they're almost certainly just getting started.
The stock doesn't look extremely cheap here. But after the big pullback from $270/share, it now looks reasonably valued.
Dividend Increase #2: General Dynamics Corporation (GD)
The next dividend increase I want to share with you came from General Dynamics Corporation (GD).
General Dynamics just handed their shareholders a nice 8.2% "pay raise" via their recent dividend increase. What's better than golden eggs? More golden eggs. And that's exactly what you're getting here with this powerhouse of a defense company.
This is now the 30th consecutive year of dividend increase for General Dynamics. The dividend continues to grow like clockwork. And that comes on top of the stock's yield of 2.75%. This stock offers a very appealing combination of yield and growth.
We put out a video on General Dynamics back in the summer showing how undervalued it was at the time. Even after going on a bit of a run since then, the stock still looks pretty attractive right now. That's even more true after this nice dividend bump.
Dividend Increase #3: L3Harris Technologies Inc (LHX)
Last, but certainly not least, I want to tell you about the massive dividend increase that came from L3Harris Technologies Inc (LHX).
L3Harris Technologies just increased their dividend by a monstrous 20%.
This is the easiest 20% income increase shareholders will ever see in their lives. After all, the only thing L3Harris Technologies shareholders had to do to receive the dividend increase was to hold shares. This marks the 21st consecutive year of dividend increases for the company.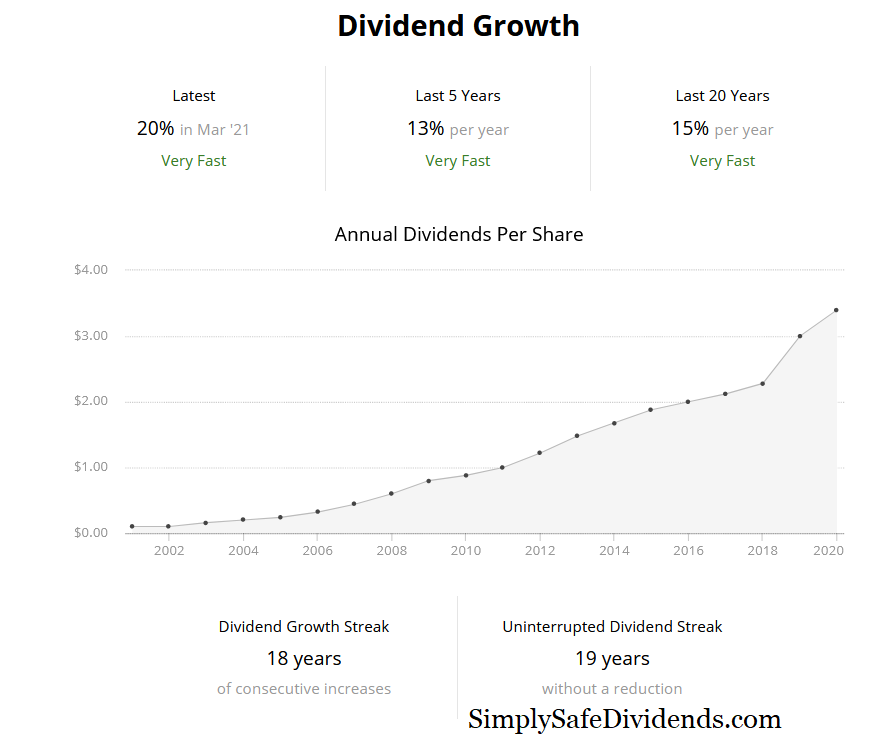 This kind of sustainability and consistency makes it the kind of stock that can be a core holding in a portfolio for someone who wants to make sure their dividend income continues to flow and grow. And the huge dividend growth that this company has become known for comes attached to a pretty decent current yield of 2.1%.
You won't often find a 2%+ yield paired with a high-double-digit dividend growth rate like this.
L3Harris Technologies is one of my favorite businesses in sovereign defense. And sovereign defense is one of my favorite areas of the market right now. The long-term opportunity here is tremendous.
If your portfolio could use some exposure to a forward-facing defense firm investing in space and military communications, consider taking a good look at L3Harris Technologies.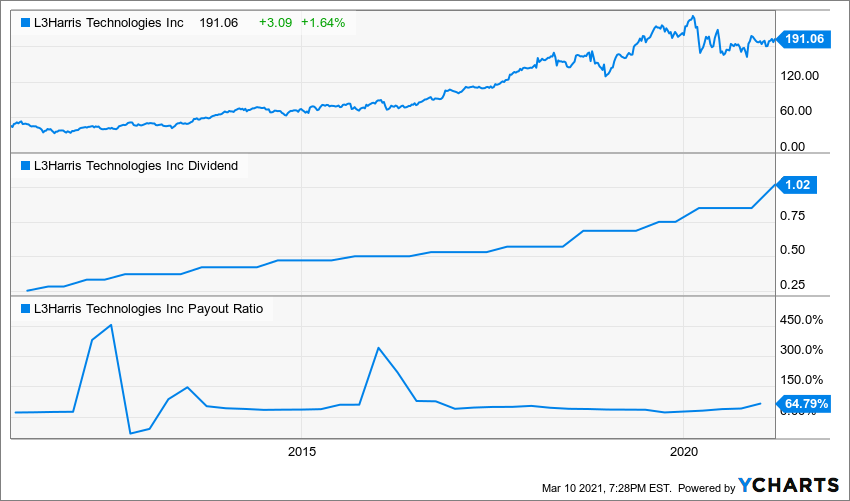 — Jason Fieber
P.S. If you'd like access to my entire six-figure dividend growth stock portfolio, as well as stock trades I make with my own money, I've made all of that available exclusively through Patreon.
Source: DividendsAndIncome.com