Back in early July, I told my readers that one of the "safer" ways to invest in Canopy Growth Corp. (NYSE: CGC) was through buying shares of Constellation Brands Inc. (NYSE: STZ).
Constellation owns a 38% stake in Canopy, so it has skin in the game and exposure to the cannabis market.
But that's just scratching the surface…
Outside of its stake in Canopy, which is already a huge deal, Constellation is also the maker of Corona and owns whiskey, vodka, and tequila brands.
This gives it yet another source of revenue and a defensive moat.
Bottom line, it's truly a force to be reckoned with in the cannabis sector!
However, Constellation is already looking ahead to the future.
It has sold off some of its wine brands that retail for under $11 so that management can focus on selling more lucrative adult beverages.
Overall, I believe that this is a stock you can retire on. Why? Constellation is a powerhouse company you'll want to keep in your portfolio on a very long-term basis – because it's only going to grow every year.
With that kind of growth and profit potential, you'll be living a very comfortable retirement.
As you can see from the chart below, the stock price took a bit of a dip in January, but it's been rebounding ever since.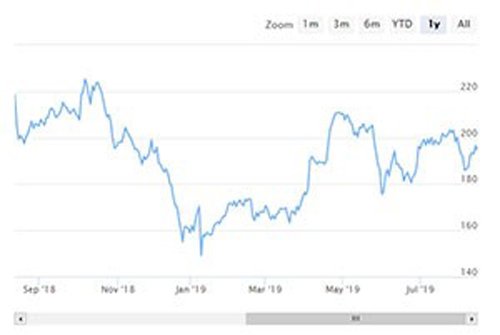 And you shouldn't be listening to those newer investors who like to focus on the share price and say it's expensive. If you focus on accumulating shares of a quality company, it will add up over time.
Plus, Constellation offers something that other cannabis companies can't right now, which only doubles the firm's already enormous profit potential…
This Is What Makes Constellation Brands a Winner
Overall, Constellation is a stock to buy more and more of when your wealth increases. When you see the stock price dip, it's great to build an even bigger position.
And what Constellation offers that other cannabis companies don't – outside of Innovative Industrial Properties Inc. (NYSE: IIPR) – is a dividend.
Dividends are great because they are versatile and can help investors during turbulent markets.
For example, you can use the dividend to supplement your income. That's going to be money put into your trading account that you can cash out or use to buy more cannabis stocks.
Constellation is currently paying out $3 per share, which is a yield of 1.55%.
If your trading service offers it – and most of them do – you can also put those dividends into a dividend reinvestment program (DRIP).
With a DRIP, your dividends will automatically be used to buy more shares of the company, and you won't have to pay a dime for them.
A Cannabis Aristocrat
Looking ahead, Constellation is playing the long game to become a "dividend aristocrat," which is a company that must have a minimum of one dividend increase annually for at least 25 years.
Being on that list carries a lot of weight with risk-averse investors.
For instance, the Retirement System of Alabama has a total of $39 million worth of Constellation shares, and it even increased its position by 201,827 shares recently. When you have this kind of backing, it helps bring a lot more stability to stocks.
Again, this is a stock you are going to want in your portfolio forever.
— Greg Miller
We Could Be Less Than 3 Months Out from an AI Superevent
[sponsor]
According to one of the world's top AI scientists, there's a major event coming as soon as three months from today that could cause expensive tech stocks like Microsoft, Google, and NVIDIA to double or triple in price in the months ahead... but whatever you do, don't go all in on big tech before you have all the details.
Click here.
Source: Money Morning