This year hasn't been especially fun for Twitter (NYSE:TWTR) shareholders. Twitter stock started 2018 with a bang, jumping from 2017's closing price of $24 to June's high around $47. Since then, however, TWTR stock has dropped as low as $26.19 and has risen only to the $32 range.
Twitter stock is also back in a downtrend after bumping into a key technical ceiling.
That's clearly not the kind of strength the bulls were hoping for.
And yet, a careful look at Twitter's past and projected results reveals there's nothing inherently wrong with it.
Indeed, the microblogging platform has never had a better grip on what it is and how it should monetize itself.
The weakness of Twitter stock is purely sentiment-driven.
While fears could pressure Twitter stock in the near-term, longer-term investors may want to buy the beaten-down shares now because the company is doing everything it's supposed to be doing.
Can't Break the Ceiling
The underlying reasons for the doubts about Twitter stock aren't tough to figure out. TWTR's rival, Facebook (NASDAQ:FB), noted in July that its sales growth would be slowing going forward, and the social networking giant's third-quarter results showed that its warning was accurate.
Meanwhile, newcomer Snap (NYSE:SNAP) — the owner of Snapchat — has yet to prove that the social media market is ready for a third player. Snap's third-quarter revenue beat analysts' consensus estimate, but the platform lost two million users during the three-month stretch.
Throw in the market's prevailing pessimism, and it's not surprising to see TWTR stock losing ground again.
Granted, there have been plenty of reasons to sell Twiiter stock.
The chart below speaks volumes. After a rough Q3, Twitter stock finally turned things around in October. It wasn't a rally built to last, however. Twitter stock stayed below the 100-day moving average line, plotted in gray, long enough to quell the budding bullishness and push TWTR stock back into a downtrend.
TWTR is now back below its 200-day moving average, depicted in white. The sellers of TWTR stock may be expecting the shares to close the gap left behind last month.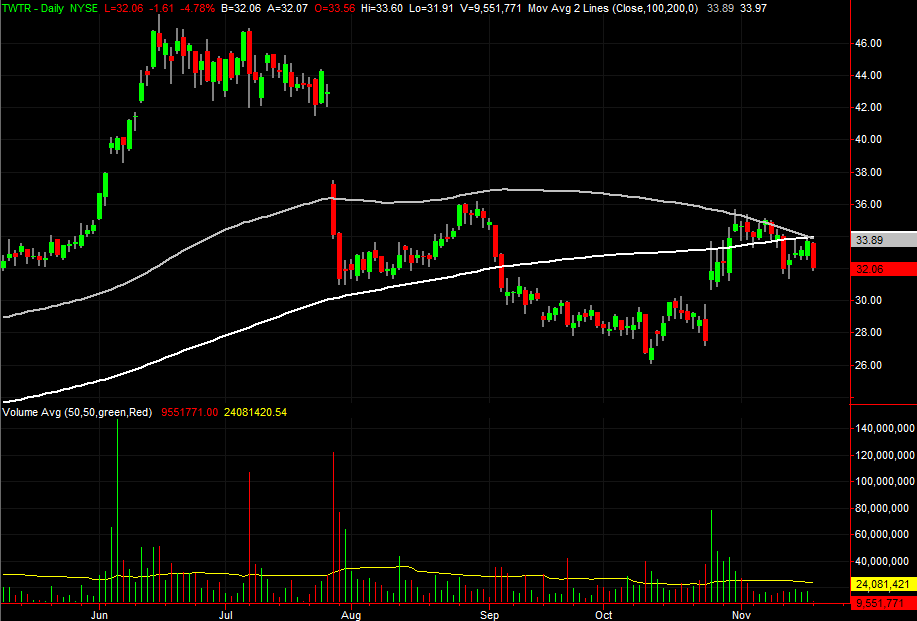 A break below October's low of $26.19 could prove devastating for TWTR.
On the Right Path
The curious part of Twitter's story is that the company isn't doing poorly. In fact, it's doing better than it's ever done before, and its financial results are about to improve even more.
The plot of Twitter's sales and earnings, past and projected, is another image that speaks for itself. Its top line and its bottom line are growing, particularly now that TWTR has figured out what microblogging is and how to get users to visit the website more often. The missing ingredient was providing topics for users with common interests to talk about. Among these subjects are sports events, politics and entertainment.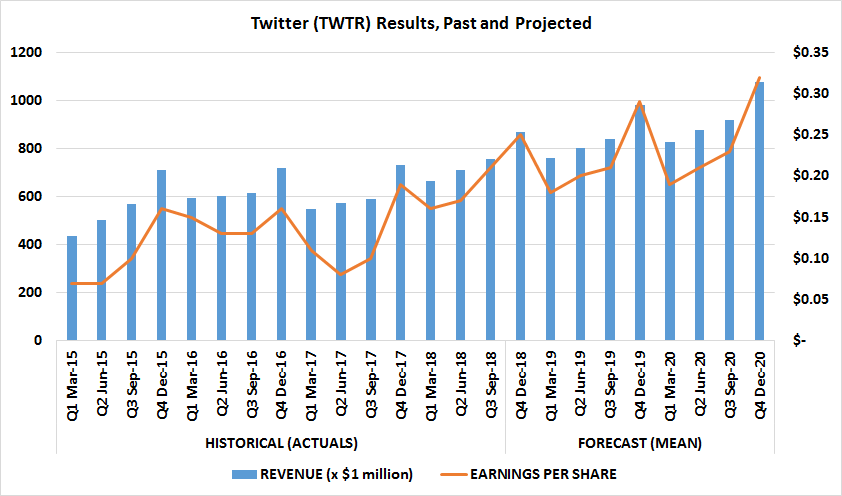 That's in stark contrast to Facebook's strategy. FB is looking to develop new feature for its flagship website that it hopes will generate revenue. TWTR, meanwhile, is simply looking to make its core product more focused.
Twitter's formula seems to be working.
Twitter CEO Jack Dorsey isn't done making improvements yet, however. TWTR recently overhauled its iOS app to make it easier for users to organize trending topics so they can more easily engage in relevant conversations. The more they engage with TWTR, the more Twitter knows about those users, enabling Twitter's ads to become more targeted.
The Bottom Line on Twitter Stock
Unfortunately, as long as investors are distracted by the possibility of a market implosion, Twitter's growing success will go unnoticed and remain irrelevant. Few stocks can withstand a sweeping panic, regardless of their merits.
Once the dust settles and Twitter can be fully appreciated, Twitter stock may well be one of the top plays in the internet sector. It's one of the few names small enough and young enough to prevent its size from becoming a burden. For most intents and purposes, it's still in developmental mode.
Said in simpler terms, add TWTR stock to your watch list, even though it may currently be too risky to add to your portfolio.
— James Brumley
America's #1 Stock Picker: BUY "AMZN of Houses"
[sponsor]
Luke Lango, the analyst crowned America's #1 Stock Picker, reveals the one small tech stock he says every investor needs to know about RIGHT NOW... Free of charge.
Click here to see it.
Source: Investor Place