Executives across the world are asking themselves the same question: is there no end to the ambitions of Jeff Bezos and Amazon.com (Nasdaq: AMZN)?
A good question since it looks like the company nicknamed the "Death Star" (after the moon-sized, planet-killing weapon from Star Wars) is set to take aim at another industry.
Just recently, Amazon seemed to be setting its sights on the freight delivery industry then on the healthcare industry and now its seems to be getting ready to target the financial industry.
Although as with healthcare, Amazon is in talks with possible established partners in the sector.
Amazon and JPMorgan
Amazon is in preliminary discussions with the largest U.S. bank – JPMorgan (NYSE: JPM) – to possibly offer its customers a checking account-like product.
JPMorgan and Amazon are already partners, having joined forces last month with Berkshire Hathaway (NYSE: BRK.B) to create a not-for-profit healthcare company. Meanwhile Chase, JPMorgan's retail banking arm, is the issuer of the Amazon Prime Rewards Signature Card. The talks are not exclusive to JPMorgan though as it is believed Amazon is also in talks with Capital One (NYSE: COF).
If discussions with either finance firm come to fruition, it will not be Amazon's first foray into the financial sector. In a very low-key launch in 2011, Amazon began offering loans to the small businesses that operate on its Marketplace platform. Amazon said last June that it had made $3 billion worth of loans to these businesses.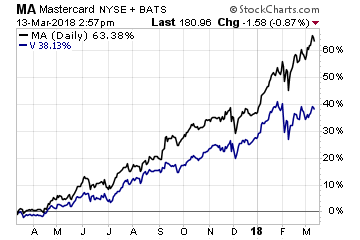 The e-commerce giant also offers a pseudo-debit card, Amazon Cash. It lets consumers add cash to an Amazon wallet and purchase items online without a credit card. And in 2017, Amazon dipped its toe into the deposit business with Prime Reload.
This gives customers a 2% bonus when they use their debit card to move funds from a bank account to their Amazon account for use for transactions on the website. This lowered the fees Amazon paid to credit card networks like Visa (NYSE: V) and Mastercard (NYSE: MA).
Amazon Changes the World… Again
If Amazon moves ahead on this venture with JPMorgan or Capital One, it will likely find gold again. A survey from the consultancy Bain found that 60% of U.S. bank customers were willing to try a financial product from a technology company. At the top of the list of those most-trusted tech firms – you guessed it – was Amazon, along with Paypal.
In fact, a report from Bain found that Amazon's banking services could grow to 70 million customers within five years. That is the same as the third largest U.S. bank, Wells Fargo!
At the very least, it will help Amazon lower the amount of fees it pays to financial firms and give it an even deeper insight into its customers' spending habits and income. And of course, it will extend Amazon's web of services that touch a person's everyday life – from food (Whole Foods) to entertainment to healthcare to trucking and now to now financial services.
From an investment viewpoint, I think that Amazon will change the way Americans pay for things, much as it changed how Americans shop. Here's why…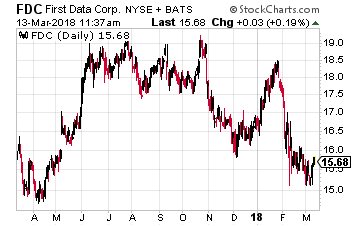 Its move into financial services will most likely not disrupt the banks (which are likely partners) at least right away. But it could disrupt the decades-old credit card payment system – the entire swipe-fee system is a $90 billion a year industry.
This includes not only the aforementioned payment networks, Visa and Mastercard, but also payments processing companies such as First Data (NYSE: FDC) that collect 2% on every credit card transaction and 24 cents on most debit card transactions.
Bain estimates Amazon alone could save $250 million in credit card interchange fees every year if just 15% of Amazon customers switch to an Amazon banking account. That assumes, of course, that Amazon finds a bank willing to partner with it on a checking account-type product. Amazon Prime members spent about $117 billion with the retailer in 2017, up 50% from the previous year, according to Consumer Intelligence Research Partners.
There is a danger down the road for other financial services firms though, if this Amazon venture is highly successful and the ecommerce giant can turn financial products into parts of its ecosystem. Amazon could move into other financial products such as mortgages, property and casualty insurance, life insurance and even wealth management. After all, the online shopping patterns of its customers already tell Amazon a lot about their lives.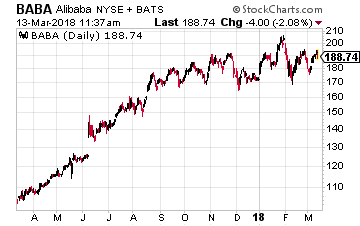 The blueprint for such a move has already been laid out by China's e-commerce giant Alibaba (NYSE: BABA) and its success in finance over the past few years.
It has amassed the world's largest money market fund, issued $96 billion of loans in five years, and sent $1.7 trillion in total payments through Alibaba's Alipay service last year.
That is roughly five times the global payment volume that flowed through PayPal.
If this happens, then much of the U.S. financial industry would have been commoditized and firms like Visa, Mastercard and First Data will see their profits shrivel. And the 'Death Star' will have struck again.
— Tony Daltorio
Source: Investors Alley