A little more than nine years ago, on Jan. 12, 2009, Hal Finney became the first recipient of Bitcoin. That was the day the computer game developer and well-known "cyberpunk" downloaded the Bitcoin software from the cryptocurrency's creator(s), Satoshi Nakamoto – and received 50 of the digital coins for doing so.
That was the very first Bitcoin transaction.
At the time, those bitcoins had almost no value – less than $0.003, in fact.
But at Bitcoin's December 2017 peak of nearly $20,000, those 50 coins were worth a cool $1 million.
Since the Finney-Satoshi transaction, we've seen the "debut" of more than 800 cryptocurrencies. Today, their market cap is at $759.7 billion.
Despite all that, in December, I began warning retail investors to stay clear of buying Bitcoin directly.
You see, I was worried that the new ability to trade Bitcoin futures, with all the Wall Street muggers and sharks coming out of the woodwork, would burn new investors.
Moreover, I predicted that the leading crypto would become highly volatile.
I was right. Over the next few days, Bitcoin fell as low as $10,000 – a 50% decline.
Here's the thing: I still believe Bitcoin has unlimited potential and is a great place for tech investors to make money.
That's why, in a moment, I'm revealing what I believe is the single best, safest way to play Bitcoin right now.
It's What Makes Bitcoin Possible That's So Compelling
Driving the whole cryptocurrency field forward is the backend technology known as "blockchain."
This sophisticated platform serves as a shared public ledger linked by computers.
It tracks transactions and ensures that the record of those arrangements remains transparent and nearly hack-proof.
The web-based blockchain is nearly impossible to edit or forge. The system also is free from government intervention and spying, making the system a true global free market.
No wonder so many major firms are adopting blockchain technology.
We're talking the likes of Alphabet Inc., Cisco Systems Inc., Goldman Sachs Group Inc., Intel Corp., and one other company I'll tell you about, just to name a few.
Gartner says blockchain technology created $4 billion in business value last year. The analysts there believe that figure will hit $21 billion by 2020 before rising to $176 billion in 2025 – and a staggering $3.1 trillion by 2030.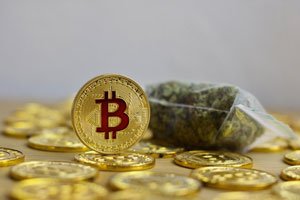 Bear in mind, this is the market value for blockchain-based enterprise applications. It doesn't count the escalating value of cryptocurrencies themselves.
In other words, though Bitcoin remains very volatile, it still has a huge future ahead of it.
So this is a red-hot field we want to ride to maximum profits. I don't think any investor should miss out on what's happening here.
Fortunately, I've got an easy, blue-chip way for us to do that.
This way, we'll be in front of a huge wave of profit potential, and we'll still be able to sleep at night. We can leave the stomach-churning volatility to the speculators.
Here's how…
There's Safe, Steady Upside Here
Microsoft Corp. (Nasdaq: MSFT) has made blockchain technology a key part of its Azure cloud computing platform.
This is very cool. The system even comes with easy-to-deploy templates that allow users to plug into the most popular crypto ledgers.
Microsoft also says Azure's built-in blockchain is designed to help developers write enterprise-wide applications that can integrate into existing cloud services.
Designed to provide maximum flexibility, the Azure blockchain platform provides a highly secure ledger of all transactions for a literal permanent record.
And I do mean "permanent."
This immutable nature of the record means mistakes cannot be corrected with updates or through simple data deletions; they must be fixed later through a compensating transaction that also remains in the ledger – forever.
To date, Microsoft hasn't said just how much it's earning from the blockchain portion of Azure.
But the cloud product is a big winner.
In its most recent fiscal quarter, the firm said Azure sales grew 90%, a rate it has scored in several recent quarters. That makes Azure nothing less than the fastest-growing part of Microsoft's business.
However, blockchain and Azure are just two of many reasons why Microsoft has become a true cutting-edge tech leader – all over again – during the last three years…
Microsoft and Azure are comfortably sitting in the blockchain "catbird seat," but it gets better…
You see, Microsoft sits at the nexus of technology and another one of my favorite high-profit trends right now…
Microsoft Is the Legal Weed Play, Too
The cannabis market is now growing faster than anyone could have imagined a decade ago and will be worth $22.8 billion by the end of this decade.
And while many firms hesitate to embrace products that used to be against the law, Microsoft is diving in.
In the summer of 2016, Microsoft invested in Kind Financial, a maker of software that helps state and local governments track the cannabis business.
The key to the legal cannabis industry's success will be found in its ability to adhere to local, state, and federal laws, and Microsoft's software can play a crucial role.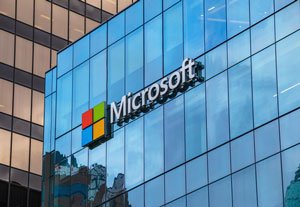 Indeed, just about everyone I talk with in the California cannabis community praises Microsoft for this crucial piece of technology, which will help legal marijuana companies grow by making sure buyers and sellers comply with rules and regulations.
All of which explains why the firm's Azure cloud platform could end up providing the technology basis for an industry that could grow to become a $50 billion powerhouse by 2020, according to Cowen & Co.
Of course, Microsoft is not a pure play on either cannabis or blockchain. And in this case, that's a good thing.
Microsoft gives us a lot of balance from its Office products, its moves into artificial intelligence and augmented reality, and the growth in its overall cloud computing unit.
No wonder the stock has become such a winner. In 2017, Microsoft gained 37.6%, just shy of double the S&P 500's 19% win over the same period.
And for those of you who picked up Microsoft when I recommended it as a legal marijuana play in September 2016, you're sitting on 53.9% gains.
And it offers us a kicker – the dividend stands at 2%. But I believe that will rise later this year, after the administration's tax cuts kick in and the company sees a huge improvement in its cash flow.
All that makes Microsoft a profitable investment in both mainstream business and bleeding-edge tech like blockchain and cannabis.
— Michael A. Robinson
Source: Money Morning