February was very kind to the biotech sector and the main biotech indices had one of their best months since its long bear market began in the summer of 2015.
Several events have driven these gains during the month.
First, the new administration seems intent on undoing many of the regulations put in place by the last administration, which were a key factor behind what has been the weakest post-war recovery on record.
This has helped many parts of the market including the healthcare, financials and energy sectors.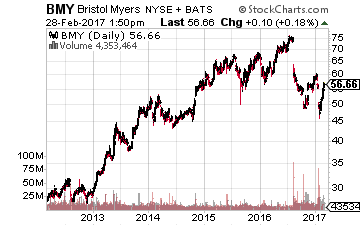 In addition, M&A activity in the biotech space is much higher in the first quarter of this year so far than the beginning of 2016.
We have seen several significant tie ups and myriad smaller transactions.
A noted biotech investor even took a stake in drug giant Bristol – Myers Squibb (NYSE: BMY), igniting speculation that someone could bid for it in what would be a $100 billion plus transaction.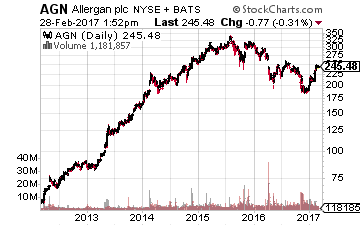 If it occurs, it would be the biggest attempted acquisition since the Treasury Department derailed the proposed $150 billion merger between Pfizer (NYSE: PFE) and Irish drug giant Allergan (NYSE: AGN).
After underperforming the overall market for 18 months and until the end of 2016, things are definitely looking up for this highly volatile and lucrative part of the market so far. I think it is going to be a good year overall for the sector and these are names I am watching as we open March.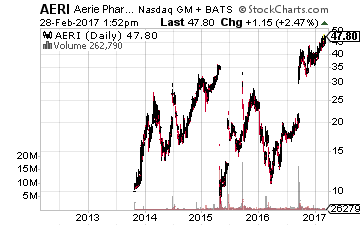 First up in Aeri Pharmaceuticals (NASDAQ:AERI). This has been a huge winner since we first highlighted it during September on these pages.
In fact, the stock has more than doubled in that time frame thanks to very positive Phase III results for both of its primary drug candidates "Rhopressa" and "Roclatan".
March could drive the next stage of what has been a substantial rally. Sometime then, the company should file a NDA for its ocular compound Rhopressa.
Roth Capital, who started its shares as a Buy on February 17th, thinks this drug will be approved and on the market by 2018 and will do $350 million in peak annual revenues by 2023.
Its analyst further believes that Roclatan will be approved, on the market by 2019, and doing $1 billion in peak revenues by 2024. Two big events for a company that still just has a $1.5 billion market capitalization. Cowen & Co. also initiated the shares as a Buy last Friday with a $70.00 a share price target.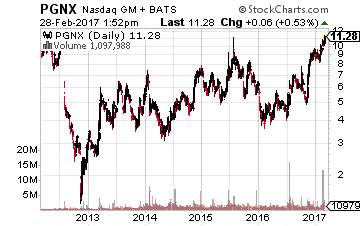 Next up is Progenics Pharmaceuticals (NASDAQ: PGNX), a name I have been touting on these pages for a good year now since it traded at $5.00 a share. They are now near $11.00 a share but still feel like they have upside as events seem to be falling in place for this dynamic little company that seems to be hitting on all cylinders since the November election.
Marketing and distribution partner Valeant Pharmaceuticals (NYSE: VRX) just announced that it is adding 250 sales representatives in its GI line of business.
This should sharply boost the revenues that Progenics' compound RELISTOR delivers, which in turn will raise royalties Progenics receives from this compound and accelerate the timeline for another $200 million in sales milestones as well.
[ad#Google Adsense 336×280-IA]Whether this is a prelude to a sale of RELISTOR rights by Valeant (which would also be a positive for Progenics) or just the company's attempt to boost revenues from its GI business is unknown.
However, this is a good thing for Progenics.
In addition, its second compound "Azedra" has key Phase III trial results due over the next 30 days.
Azedra is a radiopharmaceutical that combines radioactive Iodine 131 with iobenguane and is targeting two rare adrenal gland cancers.
Based on earlier trials and the needs in this space, it is likely on its way to approval by the end of 2017 provided no unexpected results come from this Phase III trial. Given the limited population, peak sales of Azedra should only reach $200 million to $300 million over time. However, this is still significant for a company with still less than a $750 million market capitalization even after its big recent rally.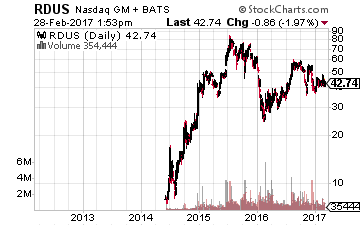 Finally, Radius Health (NASDAQ:RDUS) has a March 30th PDUFA date for its compound 'Abaloparatide-SC' for the treatment of Osteoporosis. Analysts seem to be warming up to this name recently. Last week, Cantor Fitzgerald reiterated its Buy rating on Radius and its $65 price target on the stock.
Canaccord Genuity the same day also reissued its Buy rating and $85 price target. The shares are down more than 20% since their highs late in the third quarter of last year and go for just over $40.00 a share.
This might be an advantageous entry point ahead of this key event. No insiders have sold shares since 2015 which is also encouraging. Finally, the stock has been rumored as a possible takeover by Shire, provided it garners this critical FDA approval.
— Bret Jensen
[ad#ia-tim]
Source: Investors Alley